Welcome to Flash Pulp, episode three hundred and ninety-seven.
Tonight we present Coffin: The Hunger for Change
[audio:http://traffic.libsyn.com/skinner/FlashPulp397.mp3]Download MP3
This week's episodes are brought to you by Earth Station One
Flash Pulp is an experiment in broadcasting fresh pulp stories in the modern age – three to ten minutes of fiction brought to you Monday, Wednesday and Friday evenings.
Tonight, Will Coffin, urban shaman, and Bunny, his increasingly sober apprentice, discuss the occult danger lurking behind the counter of a wandering ice cream truck.
Coffin: The Hunger for Change
Written by J.R.D. Skinner
Art and Narration by Opopanax
and Audio produced by Jessica May
It was a Sunday, and Coffin and Bunny were sitting on a bus stop bench. It was still a little too early in the season to justify frozen treats, but the chiming tune of a persistent ice cream truck portaging between suburbs had summoned their empty stomachs to action.
Bunny had a wagon wheel in one hand and a napkin, to catch the drippings, in the other.
"F##k-bugger, the first of the year is always the best," she was saying.
Will nodded his agreement, but it was clear to his roommate that his mind was elsewhere.
"Thinking about a cursed sundae from your youth?" she asked.
It was enough to extract a twitch of a smile from Coffin's lips.
"No," he replied, "well, not exactly. Notice that I leaned against the truck while waiting for our lunch?"
This time it was Bunny's turn to nod. "You did appear to be sauntering at an unusually jaunty angle."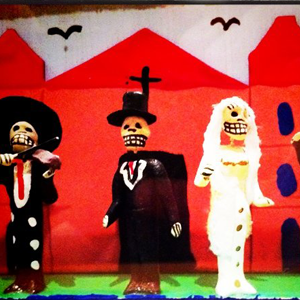 Coffin said, "a few years before Sandy died, we fell into this situation down south. Some city-level newspapers had pulled together a string of kiddie murders, but the theories were all over the map.
"Cannibals were a popular editorial choice, with Satanists close behind, but those were mostly just signs of the era.
"The only consistencies seemed to be the apparent fact that the victims were all children, that their remains were found a few miles from where they'd disappeared, and that they were all stripped clean of flesh. Not – not perfectly. Not television-style bleached bone clean, but definitely "I'm done with this chicken leg" clean."
Pausing to toss his half-eaten waffle cone through the trash hoop, Will moved to the bus schedule, then glanced at his watch.
"We weren't quite sure what we were looking for," he continued. "A werewolf? A wendigo? We were young and still had the patience to chase the wind.
"Three weeks in – and with no more to show for our wandering than a backseat full of North Carolina bar receipts – we finally caught a break. Parents don't like the details of their child's last moments published, but when a six-ten hulk by the name of Darius suffered the same fate, the press, hungry for something to fill summer headlines, exploded.
"The detail that really caught people was the speed. Darius's wife noticed him missing just before dinner, and his picked-over carcass was found in a ditch outside Chapel Hill two hours later.
"Takes a lot of hungry, hungry cannibals to eat a guy that big that fast.
"It was no easy thing to raise the dead in those days, but he was fresh, and he'd died quite unpleasantly. We guessed at the route his corpse had taken, and, by walking between his last known location and the dump site, Sandy managed to use the Crook of Ortez to pull him into conversation.
"To be fair, he didn't make it that far from where he'd disappeared before his finale.
"Anyhow, it was Darius who told us about the ice cream truck hermit."
The topic had done nothing to slow Bunny's consumption, and her cookie sandwich was now but a sliver.
"I don't get it," she said. "Magic is supposedly receding from the world?"
"It is."
"- and you've said that most of the spooks and mooks haunting today weren't noticeably around 70 years ago?"
"Also true, most entities were wisps moving outside our vision even just a decade ago."
"So how the f##k does that explain an ice cream truck?
"There's no chance some taint-gobbling medieval wizard attempted to summon a converted Ford that clangs out Turkey in the Straw, and no Victorian Hell Club dandy motherf##ker ever thought, 's##t son, I need a banana boat FROM SATAN,' so what the sweet f##k?"
Taking a seat on the short bench and stretching his legs across the pavement, Coffin replied, "you know that saying, 'the more things change, the more they stay the same?' It's basically that.
"Every generation of humanity thinks its so advanced, but everything is just a variation on a theme. Maybe it was once an eel hawker in Victorian England, maybe it was a samosa cart in Uttar Pradesh.
"Darius's story was probably the same as a thousand others, and none of them were particularly dependant on a time period. He was standing on the corner, it was nearly dinner and he was starving, but he wasn't especially excited about the offerings in the oven. Along comes this happy tune and a huckster hawking treats.
"Well, hell, Darius has a ten in his pocket, and there are no witnesses around to see him murder his appetite.
"He wasn't the only one to notice that fact, however.
"The guy in the truck has a really impressive moustache, triple curled and well tended. He's all smiles, but his patron doesn't really notice much about him beyond the lip hair.
"The hungry husband slaps down his ten and asks for a milkshake, so the guy behind the little window leans forward like he's going to return his change – except he keeps leaning. He leans so far forward, in fact, his customer thinks he's actually going to fall out – but somehow his torso seems to be stretching, his white smock distending with rippling ribs, and his hand closes around Darius' mouth.
"Then the big man's snapped up and in like a cod fresh from the sea.
"The mustachioed fella is nothing more than a lure of course – like the orb on an Angler fish – but the hermit is really more like the crab Sandy named it after. The phantom told us it's like a chameleon skin that's wrapped itself around the entirety of the truck, both inside and out. A dozen eyes watched him from the surface of the soft serve machine as he landed, and a dozen more likely watched the street for witnesses.
"Even the tiny window ledge shifted forward to consume him, as Darius put it, 'like a bottom lip.'
"The floor looked like plastic matting, but was spongy and thick. Probably the main meat of the thing. The comfortable landing didn't last long, though, as countless mouths opened in the leathery flesh, and the tinkling speakers kicked in to help cover the screaming.
"Thing is, while he was scoping the neighbourhood to make sure his wife wasn't going to hear of his caloric indiscretion, the dead man had put his hand on the truck's side, all casual like. He'd noticed that it was warm and felt strange – like dog skin, even though it looked like white-painted metal.
"He'd been too busy worrying about getting busted to think more of it than wiping his palm on his shirt and moving on.
"Anyhow, I don't know if the hermit sniffed out that we were onto him, or maybe Darius was finally just a satisfying enough meal, but the killings seemed to stop after that; well, at least in that area. Sandy – she was getting pretty obsessive by then. She had us spinning our wheels for months."
"Wait," said Bunny, "that's why you leaned? You never f##king found Johnny Monster-in-a-Box?"
"Nope," answered Will, as he stood to wave down the approaching bus, "but everything changes eventually."
Flash Pulp is presented by http://skinner.fm, and is released under the Creative Commons Attribution-Noncommercial 3.0 Unported License.
Intro and outro work provided by Jay Langejans of The New Fiction Writers podcast.
Coffin's theme is Quinn's Song: A New Man, by Kevin MacLeod of http://incompetech.com/
Freesound.org credits:
Text and audio commentaries can be sent to comments@flashpulp.com – but be aware that it may appear in the FlashCast.
– and thanks to you, for reading. If you enjoyed the story, tell your friends.