Welcome to Flash Pulp, episode two hundred and five.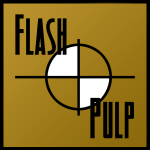 Tonight we present, Mulligan Smith and The Drunk, Part 1 of 1.
[audio:http://traffic.libsyn.com/skinner/FlashPulp205.mp3]Download MP3
(RSS / iTunes)
This week's episodes are brought to you by the After Movie Diner Podcast & Blog.
Flash Pulp is an experiment in broadcasting fresh pulp stories in the modern age – three to ten minutes of fiction brought to you Monday, Wednesday and Friday evenings.
Tonight, Private Investigator Mulligan Smith finds himself left in the cold with an unusual drinking buddy.
Flash Pulp 205 – Mulligan Smith and The Drunk, Part 1 of 1
Written by J.R.D. Skinner
Art and Narration by Opopanax
and Audio produced by Jessica May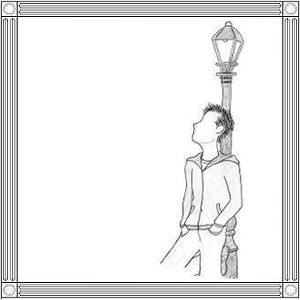 It was the third Tuesday in November, and Mulligan's Tercel was frosted with a night left in an open air pay-lot. He'd wasted his evening anticipating a man who hadn't arrived. In truth, Smith had never been sure Daren Lennox would come to O'Doyle's, but he knew it to be a preferred late night hangout of Lennox's, and the detective was in need of a short conversation with the man.
Unfortunately, a previous altercation had banned Mulligan from the all night eatery, so he'd had no option but to walk the road, or perch in the alley that made up the block's only storefront gap, and wait in the chill dark.
Now, Mulligan's rasping pupils winced at the morning sun, and the cold wicked along his fingers and into his forearm as he struggled with his keys. The numbness that had stiffened his limbs during the vigil won out, and he dropped the set with a jingle.
As he stooped to collect the ring, a single braying laugh came from the distant sidewalk.
"Haw!"
The PI spun. "Don't you think it's rude to verbally mock strangers in public?"
"Don't you think it's rude to – uh – look like a moron in public?" slurred the bottle waving drunk.
"I would take a poll of the surrounding area, but it seems that I'm solely in the company of my moronic-peers, which certainly wouldn't provide a solid sample base."
"You think you can talk over my head? I may be drunk, but for all you know these are exceptional circumstances."
"I usually wouldn't taze a ten-year-old," said Smith, his hands now warming in his hoodie's pockets, "but perhaps you're right, perhaps these are exceptional circumstances."
The boy in the crisp school uniform raised a paper-bagged bottle to his lips, and smiled.
After he finished his gulp, he said, "You've got a Taser? I've been here since seven, when Dad went to work. Noticed you stomping along the road. You a detective or something?"
Tamping down his aggravation, Mulligan stretched. He considered his conversation partner.
"Well, that's an interesting question, isn't it," said Smith. He cleared his throat, taking the child's stance in. "You need help at home?"
"#### no," the boy replied.
Mulligan nodded.
"Guessing my occupation is a lot of logic to leap,"said Smith, "but maybe not for someone who's heard about a snoop in a black sweater poking around with a picture of Daren Lennox in his hand. You have something you want to tell me?"
The boy tipped his container, without result, then staggered to a trashcan.
"First find me some London dry," he said.
"Hell no. Look, I'll give you twenty bucks."
"I'd just use it to get someone else to buy it anyhow, but, whatever. Dad gave me a fifty for lunch, and I stole another fifty from Mum, so I don't need cash – what I need is gin."
Mulligan lowered his head, and shuffled between feet, while he mulled his options.
"What's your name?" he asked.
"Lucas."
"Well, Lucas, you make a fair point, let us stroll to yonder boozery." With that, Smith began walking, pacing himself at a speed a little fast for the boy's short legs. Before his companion could complain, he pointed at the sharp-lined uniform. "You're pretty far from Ashbury Academy."
"My classes all start late," replied the lush, as his feet dragged over the pavement.
"No one ever notices that you're tanked?"
"I like to read a lot. I do okay. They never see me any way else, so they don't know to believe differently. I've always got Scope."
"Your parents?"
"Jesus, they both figure I'm a young rascal, or whatever, although maybe they don't know how much I take in. They believe me over the occasional asshole who mentions something."
"Sure," said Smith. "So, uh – you into Power Rangers, or what?"
"Shut up," Lucas replied, but they both grinned at the comment.
They traveled the rest of the distance in silence.
The automatic doors had just been engaged as Mulligan stepped onto the shop's plastic mat, and the glass slid away as he entered.
Lucas was content to wait outside.
When Mulligan returned, the boy was quick to break the seal on both the bottle, and his silence.
After a long draw, he said, "I like to wander downtown when no one is home. I get to know some people. Daren's been buying for me for months – he, er, used to sell weed over by the mall bus stop, and I told him I'd narc on him if he didn't. I think he would have anyway, we sort of became friends. A few mornings ago I saw him coming by. It was super early for him, usually he's only here in the evenings, and he was with his girlfriend. They were shouting at a cabby. They got in with him, but they were still arguing. Suddenly this other guy I've never seen before comes jogging out of the McDonalds and hops in the passenger seat. There was no more fighting, and they left in a hurry."
"Friendsies?" asked Mulligan, smirking and motioning for the bottle.
The boy extended it happily.
Smith said, "If you remember the name of the cab company, I can probably learn where they went."
Then he took a sip of his own.
"It was a Bluebird taxi."
Mulligan nodded.
In returning the gin to its owner, he overextended his grasp, knocked the boy's hand, and dumped a sizable portion of the liquor down the Ashbury emblem, and onto the carefully pressed shirt.
"####!" said Lucas, "I can't go to ####ing school like this!"
"Probably shouldn't head home either," said Smith.
Realization dawned on the youth's face as he noted Mulligan's smile.
"You said you were my ####ing friend!" the boy shouted.
"I am."
The PI reached for his cellphone as he mentally thumbed through his contact list – he had many friends, in fact, including some reliable ones who worked with Child Protective Services.
Flash Pulp is presented by http://skinner.fm, and is released under the Canadian Creative Commons Attribution-Noncommercial 2.5 License.
Text and audio commentaries can be sent to skinner@skinner.fm, or the voicemail line at (206) 338-2792 – but be aware that it may appear in the FlashCast.
– and thanks to you, for reading. If you enjoyed the story, tell your friends.