Welcome to Flash Pulp, episode two hundred and nine.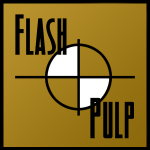 Tonight we present, Mulligan Smith and The Wait, Part 1 of 1.
[audio:http://traffic.libsyn.com/skinner/FlashPulp209.mp3]Download MP3
(RSS / iTunes)
This week's episodes are brought to you by the In Broad Daylight.
Flash Pulp is an experiment in broadcasting fresh pulp stories in the modern age – three to ten minutes of fiction brought to you Monday, Wednesday and Friday evenings.
Tonight, our PI finds himself anxiously loitering with a man once well known for his hoodlum tendencies.
Flash Pulp 209 – Mulligan Smith and The Wait, Part 1 of 1
Written by J.R.D. Skinner
Art and Narration by Opopanax
and Audio produced by Jessica May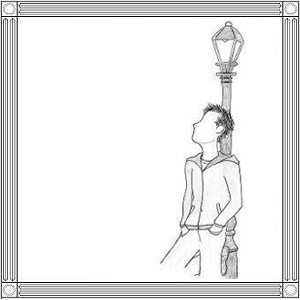 Mulligan Smith, private investigator, had spent the evening watching a blue Crown Victoria sit empty. The Ford was parked in the lot of the shoddiest Walmart in the east end of Capital City, and none of the employees bothered to note yet another unshaven vagrant hanging about the storefront.
The chill November morning had left a frost on the windshield, which remained even as the sun snuck away behind gray cloud cover, but the detective had been hopeful, until recently, that he could intercept anyone interested in the vehicle's condition. He'd spotted the sedan's taxicab markings when he'd first approached, and it had seemed odd that a working car would go unnoticed so long, but, the company door-decals were hemmed in by the constant flow of poorly parking shoppers, and the only other indicator was a small white roof-cap which might be easily missed on a brisk winter's day.
Smith hadn't stood alone the entire watch, however, and the wrinkled man with the comb-over halo, who'd helped occupy him for the last hour, was still talking.
"Ah, hell, I know you heard it a thousand times from your old man – well, hah, read it I guess, considerin' his lack of snitch-meat, but things were different then. Listen: I shot a guy once while he was usin' the john. It was in back of Mel's – a pool place that used to sell smokes at twice the price, cause they also sold beer and they knew drunks are lazy.
"I cranked the door open while his hands were full, put one in his kneecap, and let nature do the rest. Hell of a mess, and he had to crawl out of it on his own. He was dragging a lot of liquids behind him when he finally made it back to the tables. I tipped Mel an extra hundred to shut him up. Can you imagine a c-note keeping a man's silence?
"Times were different."
Though Mulligan was well familiar with Walmart Mike's shady past, he'd only known the man in the years since he'd taken on his latest identity. Even as they spoke, Mike's greeter vest waggled with his wide-armed punctuations.
"For a fella who seems to rarely bother brushing his hair," continued the former gunman, "you sure look agitated. Not that it's my business – and patience is a virtue, sure – but if you got something you need to get done, then get it done. I ever told you how I got popped?"
The worldly welcomer set his hand to his cheek, rubbed at it with a sigh, then began his telling.
"I didn't understand back then. I wasn't out to hurt folks, I was just trying to make some scratch, and – well, it might sound like a cop out, but it felt like a war – felt like my time in Vietnam, actually. I kicked around a few cities, but the folks I fell in with had the same notion across the board. It was an enterprise, but it was also something that came out of neighbourhoods, and the kids they ran with, and the people they'd grown up around. The world was smaller. It was before the Internet had everyone poking everyone else, and you could think that even the guy three blocks over was your enemy, coming to cut you in your sleep and sell heroin to your sister. Jesus, selling horse to my sister was my job, and it kept me busy for a long time. Fortunately she was smarter than me, and went clean after lending me a black eye. What an idiot I was. My moronic acts may have been varied, but the worst of it was the death of Salty O'Malley. I barely knew Salty, and he never did much to deserve the knife I gave him."
The recital stalled at the approach of a customer familiar with Mike's on-the-clock barrage of polite hellos, and Smith began tapping his index finger against his pocketed phone. It was rare for Mulligan to grow impatient at the narrator's stories, but he'd recently placed a fairly urgent call, and had yet to receive a response.
As he scanned the flow of battered minivans and high-revving hatchbacks, the interrupting round-faced man passed with a wheezed greeting. The automatic doors slid shut, and the storyteller continued.
"Doesn't matter much why I did it – it changed me. Had a girl, and the same day she told me she was preggers. We'd been together a while, longest I'd known a gal, really, and we had a little basement place we rented from her step-dad. Anyhow, I broke down. I couldn't handle the idea when my jacket was tumbling around in our tiny washing machine, stained with dead O'Malley's blood.
"I told her I was so happy. Told her I had to call my Ma. I left. Tried to drink away the tail end of the '70s, but liquor has always given me the s##ts. Even then I was too much of a pansy to try anything stronger. The '80s were balls, I told myself at first I'd just stick to minor stuff, but my stomach wasn't in it anymore. Got so hungry in '83 that I tried to mug an idiot tourist, in broad daylight, off Time's Square. Started weeping as she handed me the money. Ended up giving her my last ten and apologizing. By the '90s I'd almost stopped having nightmares – dreams about meeting my boy and the cops suddenly bursting in, or worse, dreams of Salty O'Malley sitting in the darkness at the end of my bed, and asking me why I did it. It wasn't the talking corpse that scared me in those, it was my lack of an answer.
"Anyhow, I'd heard from folks who knew folks that my kid had been born all right, and that he and his Mom had moved in with her parents. Lost track of them after that, but it was always my intention, once I could look at myself in the mirror, to go back. In '97, while I'm stocking the shelves at a Connecticut K-Mart, in walks a push-broom moustache in a brown jacket. He tells me about cold case files, and DNA testing, and it all ends in a long stretch at a tall-walled federal correctional shanty."
The account broke briefly, as did Mike's voice. With a soggy cough he cleared his throat, then finished his tale.
"I deserved it, even with my changes, and it wouldn't have mattered anyhow. Sally had tears in her eyes when she told me he'd died at fifteen. Cancer. She forgave me though, and that was something."
Both men needed a moment of silence, and, as they took it, a police cruiser pulled into the parking lot and began trawling the cement sea's yellow-lined aisles.
He wasn't sure if it was due to the story, or the delay, but Smith was feeling uncooperative. Originally he'd intended to direct their search, but he reasoned that he'd been clear about the license plate in question, and that the sweet smell of decay emanating from the trunk had been easy enough to spot when he'd encountered it an hour earlier.
He said, "You're coming off a long shift – must be hungry. Let's go grab a burger. Dad mentioned once you knew a guy in Boston who blew his own leg off and had to lay low at his mother's house for three months?"
Smiling, Walmart Mike shrugged off his smock. "Yeah. Mean old bag, let's see, that'd be '74?"
The pair stepped down from the curb.
Flash Pulp is presented by http://skinner.fm, and is released under the Canadian Creative Commons Attribution-Noncommercial 2.5 License.
Text and audio commentaries can be sent to skinner@skinner.fm, or the voicemail line at (206) 338-2792 – but be aware that it may appear in the FlashCast.
– and thanks to you, for reading. If you enjoyed the story, tell your friends.