Welcome to Flash Pulp, episode two hundred and thirty-two.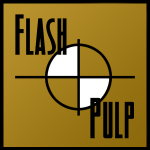 Tonight we present, Coffin: Hidden, Part 2 of 3.
(Part 1 – Part 2 – Part 3)
[audio:http://traffic.libsyn.com/skinner/FlashPulp232.mp3]Download MP3
(RSS / iTunes)
This week's episodes are brought to you by the Radio's Revenge podcast.
Flash Pulp is an experiment in broadcasting fresh pulp stories in the modern age – three to ten minutes of fiction brought to you Monday, Wednesday and Friday evenings.
Tonight, Will Coffin, urban shaman, and Bunny, his tipsy companion, find themselves taking complaints from a dead man.
Coffin: Hidden, Part 2 of 3
Written by J.R.D. Skinner
Art and Narration by Opopanax
and Audio produced by Jessica May
It was an unpleasant experience, but the Landreaus had been convinced that simply waiting was the best option for cleaning up the arcane shower of blood that had coated every surface of their dishevelled guest room, and Will had to agree.
Gene had spent the time cooing through young Victoria's keening, in an attempt to bring her some calm, while his wife, Judy, had paced the carpet, alternately staring down her strange visitors and her ailing infant. After a quarter hour, the pools which had gathered amongst the crumpled towels, and in the anxious parents' discarded coffee mugs, began to drain. Soon the air became thick, as if with dust, and the smell of moist copper was replaced with the stink of burning meat – then that too was gone, and the chamber had apparently returned to its mundane state.
"It's almost tempting to consider the whole thing an illusion," said Will, to himself.
"Yeah, but look at that poor ####ing baby," replied Bunny. The scene had done nothing to stop her thirst, and she was having difficulty remaining entirely upright as she spoke. "She loses anymore weight, and she'll qualify as the world's youngest supermodel."
"I said almost."
Victoria had ceased her wail, and, as her forehead slackened, her swollen lids fought to remain open. Before long, and despite the child's efforts to engage in a second round of complaints, Gene's steady bobbing and hushing was too much to fight. She weezed gently as her head dipped onto her father's shoulder, and her balled fists relaxed into sleep.
Coffin gently cleared his throat.
"You two should wait in the kitchen," he told the Landreaus. Gene's gaze held only concern as he departed, but Will thought he caught a hint of suspicion in Judy's own.
As he closed the door behind them, the family's collie puppy, Sweetie, returned from the hallway closet in which she'd sheltered when the disturbance had first begun, and scratched at the barrier.
Once he'd allowed her entrance(I thought the dog was already in the room?), Will turned the flimsy lock and began chewing at his thumbnail.
"It's a hex of some sort," he said, "It's not a simple curse; it's obviously just as much about the visual impact as about the health effects."
Bunny nodded. "I ain't seen that kind of showmanship since the last time I sat through a '70s-era Italian slasher-flick. A hella gory one, where a dude gets stabbed in the eye with another dude's eye. I love that ####."
She sniffed, then added, "this, though, I'm not such a fan of."
"Yeah, well, speaking of crazed men with axes," replied Coffin, "I suppose we should chat with the old man in the corner."
As his fingers returned to his pocket, and touched the ornate silver charm it contained, the apparition reappeared.
"You sir, are mistaken," said the translucent phantom. "I am no sort of lunatic, I simply carry the instrument of my demise, and it is more comfortable without than within. That said, however, decades ago, I became especially enthralled with a nearby maiden, and managed to roam quite some distance from my place of resting before my willpower could take no more. I'd left my villainous hatchet some distance behind, and its impact upon returning to my chest was unpleasant in a way that I am unable to fully explain to a living body."
Coffin lowered his head in apology. "Fair enough, I should know better than to make assumptions. I'm Will, and this is my, uh, friend, Bunny."
His roommate threw up a hand at the mention of her name, and the shaman finally noticed that she'd taken to rifling the dresser's drawers.
"I'm lookin' for clues and ####," she said, as a reply to his raised brow.
"By the looks of your now empty pocket, I'd guess it's whiskey you seek, but you'll find only swaddling cloths," interjected the ghost. "As the years go on, it's all too often the same few scenes. At a time, this was all trees. I was happier when it was quiet – I was not forced to watch others' dramas play out.
"My voicelessness leaves me the worst sort of peanut gallery."
"By that thinking, what kind of show are the Landreaus, a tragedy or a comedy?" asked Coffin.
"It's a poor analogy," answered the shade. "as without beginnings and ends you can't know how to judge the pageant, but, to my mind, it's likely that the current troup were approaching their curtain call, even before this monstrosity beset them.
"I know your line of business, William. What was once a large swamp has become a small city. It's the people that make it so close. It's such that, these days, a dead-gentleman can't whisper in the dark without receiving a reply croaked out by some freshly overdosed housewife or rifle-swallowing husband. It is they who have told me of your occupation."
With a strained step, the spectre moved towards the dozing tot.
"I can not speak to the occult aspect of your dilemma," he continued, "but I am no stranger to jealousy. I was attacked by Jacob Hertzinger for the love of my wife, and it's the image of his hatchet which I'm tasked to carry."
"Christ, your wife buggered off with the guy who hacked you up?" asked Bunny. Her sleuthing had left her empty-handed.
"No, Edna did not fancy his aggressive approaches. His ghost still weeps about the rebuttal, and his cracked skull, where my dooryard formerly stood, some two miles yonder. All in all, I am of the mind that open communication is always best. Tears are painful, but not so much as a life-ending chest wound left to fester at the edge of a shady stand of spruce.
"As I have since learned, if Jacob had spoken of his yearning, despite his shame at the sinful urge, to even a close friend, perhaps his secret desire might not have burned so feverishly, nor ended us both.
"All of the betrayals seem so mundane now; so similar. I sometimes confuse this newest father with the man who lodged here when coal was still heaped over my resting place. He was the transgressor then, but the reasons appeared the same. I find myself having forever repeating conversations with the deaf, explaining what small detail of their partner's sadness has exacerbated their situation to such breaking.
"I do not confuse Judy, however. Not since witnessing her roughhousing with a stranger upon the dining room table, one sunlit afternoon. I should say, strange to myself – she was obviously well acquainted with the fellow, as she expounded his name at length, and in a variety of exalting tones."
Flash Pulp is presented by http://skinner.fm, and is released under the Canadian Creative Commons Attribution-Noncommercial 2.5 License.
Freesound.org credits:

Text and audio commentaries can be sent to skinner@skinner.fm, or the voicemail line at (206) 338-2792 – but be aware that it may appear in the FlashCast.
– and thanks to you, for reading. If you enjoyed the story, tell your friends.