Welcome to Flash Pulp, episode one hundred and thirty-seven.
Tonight we present, Jabber, Part 2 of 2
(Part 1 – Part 2)
[audio:http://traffic.libsyn.com/skinner/FlashPulp137.mp3]Download MP3
(RSS / iTunes)
This week's episodes are brought to you by the free audio-novella, Boiling Point.
Find out more at http://neilcolquhoun.com
Flash Pulp is an experiment in broadcasting fresh pulp stories in the modern age – three to ten minutes of fiction brought to you Monday, Wednesday and Friday evenings.
Tonight, Will Coffin must also face down the terrible maw of the Jabber.
Flash Pulp 137 – Jabber, Part 2 of 2
Written by J.R.D. Skinner
Art and Narration by Opopanax
and Audio produced by Jessica May
Will Coffin eyed the geese paddling about the smooth surface of Capital River, and thought hard about ignoring the conversation. The flow of water had once been too fast here for the foul to comfortably lounge, but the new construction project down stream had done much to stymie the rush. He threw some bread crust to the eager beaks.
As he sagged against the black railing that hemmed the city park along the bank, the young man who'd been speaking set his elbow on the iron and leaned in.
"So?" the youth said, his breath smelling of hot-dog-cart mustard.
"I don't know what you want from me, I'm just here to help the neighbourhood."
The close-talker drew back from the response and adjusted his tie.
"Please. I understand why you maintain this folksy "just helpin' folks, hyuck-hyuck" persona, but I am a man of understanding. I know you are the keeper of thirteen of the thirty-three relics known to exist. I also know that you are a man of some power, and influence. We are requesting an alliance."
"I've seen crack dealers run this same scam." Will replied. "To them, a friend today is a customer tomorrow. Your boss isn't interested in politics, or corporate power, or whatever aspiration you figure you have with that poorly-tailored suit – he's interested in your gooey mouth-meat; and mine; and everyone's. I've read Blackhall's book."
"As have I – the man was a liar and a scoundrel – but, if you have such a distaste, why did you agree to come?"
"Your telemarketer tactics of calling me every fifteen minutes."
"Persistence is the first step to success."
Coffin cringed at the chestnut.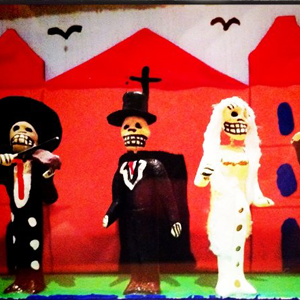 "I sympathize with your situation," he said, "but the tongue you're wagging is eventually going to be its lunch. You may not be able to understand that, given its ability to run off with your gray-matter, but its inevitable."
"Oh, I'm not his slave – think of me as his, uh, manager. The Jabber is likely thousands of years old, but these aren't the dark ages, he can't just go around gorging on peasants. Someone has to keep him from eating everybody." Will gave the man's grin a hard look. The would-be broker continued, "- and uh, there are uses for an indestructible killer, uses by important people. Good people."
He wasn't sure if he believed it, but even the hint that the agent was acting of his own free will made it easier for Coffin to attempt to break his jaw. The force of his punch wasn't the greatest portion of the impact, however, as the shaman had wrapped his silver chain about his knuckles, and the occult links – usually reserved for interaction only with disembodied spirits – caused a brief ethereal shadow to jump from the emissary's shoulders, as if the concussion had nearly dislodged his living ghost from his flesh.
He collapsed to the asphalt that marked the park's paths.
Turning his back to unconscious man, and the falling dusk, Coffin started up the squat hill towards the sharp-faced figure, which appeared near fifty, who'd watched the exchange intently. As Will neared, it did not rise from its splintered seat.
Dropping its lower jaw, it began to speak through a a gray quiver of barbs.
"Jubrun talbotin dallingar ed barimu."
It continued on, and, as the shadows grew, so did the Jabber's volume.
Soon the form stood on his bench, towering a head's length over Will, and flecks of reddish liquid began to take flight from the thing's lips, under the strength of its non-sense argument.
Coffin heard nothing of the hypnotic babble; he'd donned industrial level ear protection as he'd climbed the short rise. When he was satisfied that his modern defence was strong enough to stand the ancient problem, he lit a Zippo in signal.
Concern had crept into the Jabber's raging eyes, and it turned at the flicker of a pair of worn jeans, and a Motley Crue t-shirt, entering into its circle of influence.
"You goat ####ing ###hole! I've heard about you ####-o – you eating tiny little babies tongues and ####? That's god-####ed filthy, man! What kind of ####ing walrus tugger are you? Will told me you might have even ####ing killed my great-grandmother – ####ing bull#### you #### glazing feline ####er!"
Bunny, Coffin's roommate, raised high the rum bottle she'd spent her wait with, then continued on in her rant.
The horror staggered.
Despite it's best efforts to respond, the beast could make no arcane purchase against the polyurethane and plastic noise-canceling ear-muffs, and its ways were too deeply ingrained by time to make any other gambit.
By midnight – with hours spent by Coffin in an effort to turn away pedestrians from the apparent drunken, and screaming, couple – the creature had collapsed.
Will threw the crumpled form over his shoulder with a grunt, and they made their way to the river's edge.
Draining the last of her liqour, Bunny asked, "What now?"
"Eight years ago I did a favour for a guy named Jim Bondo. He was a foreman working on an office building in the downtown core, and he'd come to the conclusion that his site was on an Indian graveyard or something. It wasn't – he just had a lot of superstitious Germans on his crew, and that had attracted gremlins to the heavy machines – but I corrected the situation anyhow." As Coffin spoke, his companion retrieved another bottle from the interior of her over-sized purse. "He's huge in construction now, runs one of the biggest firms in the city – big enough that they got the contract for the new dam going in down stream. I figure waking up in a few hundred tons of concrete should occupy him for quite some time."
It was a long walk ahead, and Will was happy to wet his throat when Bunny offered.
Flash Pulp is presented by http://skinner.fm, and is released under the Canadian Creative Commons Attribution-Noncommercial 2.5 License.
Text and audio commentaries can be sent to skinner@skinner.fm, or the voicemail line at (206) 338-2792 – but be aware that it may appear in the FlashCast.
– and thanks to you, for reading. If you enjoyed the story, tell your friends.