FP293 – The Turnaround
Welcome to Flash Pulp, episode two hundred and ninety-three.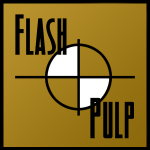 Tonight we present The Turnaround
[audio:http://traffic.libsyn.com/skinner/FlashPulp293.mp3]Download MP3
(RSS / iTunes)
This week's episodes are brought to you by SkinnerCo.
Flash Pulp is an experiment in broadcasting fresh pulp stories in the modern age – three to ten minutes of fiction brought to you Monday, Wednesday and Friday evenings.
Tonight, for the second of this year's Halloween tales, we look towards the abandoned town of Geeston, and the man with the unending smile who haunts its wreckage.
Written by J.R.D. Skinner
Art and Narration by Opopanax
and Audio produced by Jessica May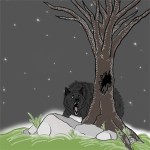 As the ivory white Ford Focus left the highway and edged onto the disintegrating pavement of Red Squirrel Road, a misshapen figure broke from the encroaching pines, pushed through the ditch's overgrown brush, and screamed "he'll kill you!"
Inside the car, nineteen-year-old Jared Clarke asked, "holy shit, did you see that hobo bushman yelling and waving at us?"
"Looked like he was part forest," replied Lance Newell, the same age as Clarke and the boy's most consistent partner in misadventure.
Amber Curtis, a year younger than her male companions and Newell's sometimes girlfriend, turned in the passenger seat. "He just looked dirty to me. Did I seriously see a cloud of flies around him?"
"Probably some hunter who pulled over to water the trees," replied Tamara Benson, the seventeen-year-old behind the wheel. The vehicle was her parents, and she was determined to prove that she could make the road trip to the abandoned town without becoming pregnant, or, almost worse, damaging their newly-purchased Ford.
"What about the ghosts of Geeston!?" her mother had asked when the girl had requested the keys.
"I'll call Bill Murray if I see any," she'd replied.
A half-decade earlier, a family, the Palmers, had disappeared at the site, and since that time every missing runaway in the area had been blamed on the urban legends that surrounded the derelict town. It was the lack of guff or second-guessing, on her Mom's part, that made Tamara especially determined to return home incident-free.
"Maybe we'll see the Smirking Man," she suggested. "Don't those slasher-types always have some sort of harbinger?"
Uninterested in her friends choice of topics, and with the opening notes of the Beastie Boys' Sabotage pushing at the speakers, Amber's fingers crept towards the volume knob, only to be slapped away.
The Smirking Man was said to be the somehow resurrected form of Odell Barrow, the Chembax worker who, local mythologies stated, had set the chemical plant ablaze after discovering his wife in a tryst with one of the company's managers.
It was Barrow's efforts with a rifle, from atop Chembax's largest storage tank, that had kept emergency personnel from containing the toxic inferno which had resulted in many deaths, and necessitated the evacuation of the town's survivors – but it was the man's work with his straight razor that had earned him the nickname of The Smirking Man.
Supposedly, as he sat upon his smoking tower and shaved away his lips, he claimed each strip of flesh was a kiss returned to his former beloved, but his craftsmanship had been lopsided, leaving his exposed teeth in a permanently curled grin.
Finally, as the song ended, the teens found themselves brought to a halt by a cement barricade originally erected when the hamlet was quarantined.
"Ha, there's a no U-turn sign. Guess we're stuck here," said Lance.
Amber raised an encouraging eyebrow at him, and set a thumbnail to her cherry-glossed smile.
It began to rain.
"Maybe we should head back," said Tamara.
Jared unbuckled. "Afraid of finding the Palmers?"
Despite his fixed expression of merriment, Odell Barrow was running out of patience. Calm had never been his strong suit, even in life, and death had done nothing to clarify his reason. He'd heard the car's approach soon after its turn onto the winding road that lead to town, and he'd set his mind to the deaths of all inside, but, now, hunched behind the low cracked barrier that marked Geeston's edge, his eagerness for fresh blood edged into annoyance, then anger.
He knew he should draw it out, as he had with the campers who'd visited so long ago, and yet he stood.
Though it had been decades since the fire, his bare, but decaying, arms still smoked from the heat, and perpetual ash drifted to the ground as he moved.
He raised his straight razor across his "1974 Chembax Family Picnic" t-shirt, and dragged its still-sharp blade across his blackened gums. To Odell, the extra pain was worth their fear.
Then, with three broad strides, he approached the idling Focus.
What happened next was not an accident. There was no moment of fearful reflex overriding conscious decision.
Instead Tamara simply said, "Nope," then, flipping on her signal, she rolled the car back twenty feet.
She was making the turn, signage and rotten-faced serial killers be damned.
As he watched the red taillights drift up and around the nearest hill, however, the Smirking Man did not despair. These were his woods – all the land around Geeston was his, by his estimation – and he knew that a short stroll would bring him to a point further along the road much quicker than the Ford might travel.
It was while he stood astride the pavement, with the Focus' lights just beginning to touch on the timber that lined the bend, that Odell realized things were awry. His first indication came when a swinging pine trunk impacted on his spine, and the second arrived when, after stumbling briefly through the scrub in a daze, a nimbly handled nailgun left him pinned to a thick oak.
Without noticing the men in the undergrowth, the teens drove past. Tamara's parents, despite an inspection with careful eyes, would find no damage to their vehicle.
The harbinger wiped at the muck that covered his face as he inspected his work, and where he found the iron's hold on the Smirking Man to be lacking he liberally applied further pins.
"I've been waiting," he said. "Spent months lying out there in the woods, buried in stink so that you wouldn't be able to smell me from your own decomposition. Everyone says the legends are bunk, but I knew. I've watched you stalk the wilds at night, roaming around like a lost child searching for his toy.
"It must be tough when the only company you have is the ghosts, and they all blame you for their deaths."
Barrow attempted to spit through gritted teeth, but managed nothing more than a wisp of smoke. "Look at me, moron! You can't kill me! My punishment is eternal!"
"Good," replied the old man, "as I'm hoping to spend a while with you."
Reaching through a fern's fanning leaves, he retrieved a gray wool blanket and unwrapped it. Within lay a pair of long-handled steel yard clippers and a sharpening stone.
"Oh," he added, "you can just call me Grampy Palmer."
Flash Pulp is presented by http://skinner.fm, and is released under the Canadian Creative Commons Attribution-Noncommercial 2.5 License.
Freesound.org credits:

Text and audio commentaries can be sent to comments@flashpulp.com – but be aware that it may appear in the FlashCast.
– and thanks to you, for reading. If you enjoyed the story, tell your friends.