FP296 – The Murder Plague: Fencing, Part 2 of 3
Welcome to Flash Pulp, episode two hundred and ninety-six.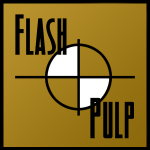 Tonight we present The Murder Plague: Fencing, Part 2 of 3
(Part 1 – Part 2 – Part 3)
[audio:http://traffic.libsyn.com/skinner/FlashPulp296.mp3]Download MP3
(RSS / iTunes)
This week's episodes are brought to you by Nutty Bites.
Flash Pulp is an experiment in broadcasting fresh pulp stories in the modern age – three to ten minutes of fiction brought to you Monday, Wednesday and Friday evenings.
Tonight, Harm Carter finds a home for himself amongst the infected maniacs.
The Murder Plague: Fencing, Part 2 of 3
Written by J.R.D. Skinner
Art and Narration by Opopanax
and Audio produced by Jessica May
I could have helped. I would have, probably, if I was in my right mind.
The doctors tell you about your lack of culpability, but Hitchcock's doesn't touch your memory. You dream of things you've done, details you've forgotten for years, and there are, of course, plenty of things you remember always; the feeling of resistance against the blade, or the smack of the hammer, or the simple thud of a trap being sprung.
You never escape the memory of the rush of victory against a hated enemy – even if that enemy is only the cancer patient grandmother from next door.
Sometimes you even dream that your delusions were true.
Now – when I was a boy we'd start our ball games with one lad tossing another a bat. They'd then hand-over-hand the handle till the winner grabbed the top. Meeting someone during the plague was like that, but coming out on top usually meant a knife in the other fellow
That's how the following period felt in my mind: A series of escalations, with the opening toss of the bat being the chance revealing of the pool.
It was like staring at my opponent's shadow and trying to guess what they looked like. I didn't know if it was a man or woman, but I knew they were crafty. It must have taken quite a bit of work to construct the grid they'd laid across the pool, to hinge and balance the planks, then lay the sod camouflage.
Worse still, Capital City was largely powerless. Unless their fortifications had been built at the immediate onset of the plague, they'd used only hand tools.
It would mean less noise while getting the job done. Yes, I thought they were crafty indeed.
Without doing it consciously, I started thinking of my neighbour as The Carpenter.
I became convinced every object in my opponent's yard was booby trapped, and that the homemade abyss was but one defensive line of many. The propane grill was obviously a bomb. The four broad steps leading to the rear patio door were likely break away, divulging some sort of foot-sole impaling devices beneath. Below the overhang of the house stood a green dutch-doored shed. Touching the latch would no doubt mean decapitation, or some equally ingeniously horrible fate.
Standing there, absentmindedly listening to the screaming while my thumb and forefinger still held the fuzzy pink curtain, odd ideas came to me; like lingering till the wind was favourable and trying to set fire to the opposite string of houses, or finding a car and rigging the gas pedal so that it slammed into the cream siding, or even just ringing the bell and seeing what would happen if I asked to borrow a cup of sugar.
All were discarded as distinctly too risky. I considered on.
Would The Carpenter appear to check the tiger in his trap? No, he or she would wait and see if the death throes brought anyone else – so, in turn, I would wait to see what The Carpenter would see.
My fevered mind began to feel my neighbour's presence in the void they'd left. Of the four windows I could see clearly, two were covered with slat blinds and the others held thick floral-patterned drapes. I suspected the blinds in the bottom-right had been slanted just enough to allow a view of the outside, as neither row had been cracked for a better view, but every now and then I would come around to convincing myself that there was a flutter at the upper curtains. I was a fisherman uncertain as to if he was actually feeling nibbles on his line and never getting a solid bite.
The shrieking became wailing, and the wailing became weeping, then, no more than an hour later, there was nothing but silence.
It got late, and I got tired, yet I couldn't leave my post. The Carpenter, I was sure, would hold out till the darkest moment of the night, then venture forth. By the time the moon was deeply within cloud cover, however, I was positive it would be dawn.
I peered carefully from behind my flimsy veil, determined to be just as crafty, and patient, as my worthy adversary.
At dusk the shed opened, and a thin faced woman stepped from its depths.
Flash Pulp is presented by http://skinner.fm, and is released under the Canadian Creative Commons Attribution-Noncommercial 2.5 License.
Text and audio commentaries can be sent to comments@flashpulp.com – but be aware that it may appear in the FlashCast.
– and thanks to you, for reading. If you enjoyed the story, tell your friends.