True Crime Tuesday: Sincerest Form of Flattery Edition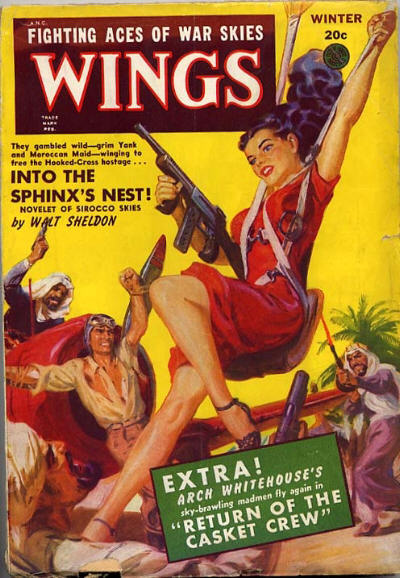 As is likely true of most who enjoy a good true crime tale, I've long been interested in the D.B. (Dan) Cooper case – we do love a clever, bloodless, heist.
The thing is, though few details are known about Cooper, much has been recorded on the flurry of imitators who followed. Are there enough known-facts to make a D.B. movie? No – but, I propose to you, the life of Richard McCoy, Jr., not-so-cheap knockoff, is ripe for adaptation.
[Quotes from Wikipedia, though the emphasis is mine.]
McCoy was born December 7, 1942, in the town of Kinston, North Carolina, and grew up in nearby Cove City. In 1962 McCoy moved to Provo, Utah, and enrolled at Brigham Young University (BYU) before dropping out to serve a two-year tour of duty in the Army. He served in Vietnam as a demolition expert and pilot and was awarded the Purple Heart in 1964.

In 1965 McCoy returned to BYU, where he met Karen Burns. They married in August 1965 in Raleigh. By 1971 they had two children, Chanti and Richard.
A hero! A family man! A graduate of feasibly the most pious school in America! So clean cut you could cut yourself on his chin – and that's not all!
McCoy served another term in the Army on the condition he go to Vietnam, where he was awarded both the Army Commendation Medal and Distinguished Flying Cross. Upon returning to Utah, he served as a warrant officer in the Utah National Guard and was an avid skydiver.

McCoy taught Mormon Sunday school and studied law enforcement at BYU. His purported dream was to become an FBI or CIA agent.
Clearly a man on his way to a life of crime, right?
On April 7, 1972, McCoy boarded United Airlines Flight 855 under the alias "James Johnson" during a stopover in Denver, Colorado. The aircraft was a Boeing 727 with aft stairs (the same equipment used in the D. B. Cooper incident), via which McCoy escaped in mid-flight by parachute after giving the crew similar instructions as Cooper had. McCoy had obtained a $500,000 cash ransom, and carried a novelty hand-grenade and an empty pistol.

Police began investigating McCoy following a tip from a motorist. The driver had picked up McCoy hitch-hiking at a fast-food restaurant, where McCoy was wearing a jumpsuit and carrying a duffel bag. McCoy also had described to an acquaintance how easy it would be to carry out such a hijacking.
I can only assume he was bragging to one of the kids at Sunday school.
Following fingerprint and handwriting matches, McCoy was arrested two days after the hijacking. Ironically, McCoy was on National Guard duty flying one of the helicopters involved in the search for the hijacker. Inside his house, FBI agents found a jumpsuit and a duffel bag filled with cash totaling $499,970.
That's right: He spent, at most, $30.
Little did the Feds know, however, that they'd essentially captured a member of the A-Team.
McCoy claimed innocence, but was convicted of the hijacking and received a 45-year sentence. Once incarcerated at the Federal penitentiary at Lewisburg, Pennsylvania, McCoy used his access to the prison's dental office to fashion a fake handgun out of dental paste[.] He and a crew of convicts escaped on August 10, 1974 by commandeering a garbage truck and crashing it through the prison's main gate.
As with most outlaw pulp tales told in the 1970's, however, things did not end well. Still, McCoy lived the archetype to the last.
Three months later the FBI located McCoy in Virginia Beach, Virginia. News reports stated that on November 9, 1974, McCoy walked into his home and was met by FBI agents; he fired at them, and an agent fired back with a shotgun, killing McCoy.