FP313 – The Long Haul: a Blackhall Chronicle, Part 2 of 3
Welcome to Flash Pulp, episode three hundred and thirteen.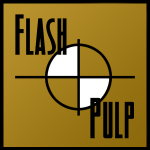 Tonight we present The Long Haul: a Blackhall Chronicle, Part 2 of 3
(Part 1 – Part 2 – Part 3)
[audio:http://traffic.libsyn.com/skinner/FlashPulp313.mp3]Download MP3
(RSS / iTunes)
This week's episodes are brought to you by Glow-in-the-Dark Radio
Flash Pulp is an experiment in broadcasting fresh pulp stories in the modern age – three to ten minutes of fiction brought to you Monday, Wednesday and Friday evenings.
Tonight, Thomas Blackhall, master frontiersman and student of the occult, finds himself at the edge of exhaustion while attempting to navigate his companions through the frosty wilderness.
The Long Haul: a Blackhall Chronicle, Part 2 of 3
Written by J.R.D. Skinner
Art and Narration by Opopanax
and Audio produced by Jessica May
The distraction of Blackhall's words did not last long against the increasingly insistent wind.
Despite the Bells' best efforts, the gusting air seemed to find every shirt seam and push aside every mislaid blanket corner. Worse yet, the greater the speed at which Thomas attempted to carry them to safety, the greater the rolling of The Green Ship, and the more it was necessary to expose tender fingers and bluing hands to steady themselves.
Blackhall's scrutiny swept the horizon with the persistence of a lighthouse beacon, but there remained no sign of a smokey column nor a civilized break in the brackish sea of timber upon which they rode.
After some four hours of unfaltering drumming, Thomas' arms cramped at the continued exertion. If it were not for the simple fact that any change-up would likely send them tumbling through the bristling limbs and to the unwelcoming earth below, he would have gladly shared the labour – even with the malnourished and gaunt-eyed Bells.
Supposing they did survive such a fall with minimal wounds, however, Blackhall doubted his belligerent shoulders and aching forearms would stand the climb to begin the journey anew.
There was nothing for it but to continue, and to hope.
Clara's concerns were largely for James, and James' largely for Clara. Given the arcane resources he'd demonstrated in their rescue, Thomas had begun to suspect that the couple thought him somehow indeFATigable, and, in truth, the frontiersman wished he had one more trick to pull from his collection that might assist them.
It only made his cadence heavier to know he did not.
As they sailed over a rising cluster of spruce, James spoke of the plans they would enact at their return to populated turf, but a particularly abrupt roll of the bow left him with a smile of reminiscence on his lips.
"I do believe this is as harrowing a ride as the one we enjoyed on our wedding eve," he told his bride.
Clara blushed briefly before her memory summoned the incident in question.
"Ah, yes," she said, turning to Thomas as if an explanation was suddenly necessary. "We'd been lent the doctor's nimble buggy for the occasion of our ride from chapel to threshold, and Father insisted we be lead by Praetorian, a stallion of his land that was little use for work but paid its way in Saturday night betting at the local public house.
"We were not half-way home when the brute caught sight of a lynx on the trail – then there was naught for it but to hold each other tightly and hope that our first evening of matrimony would not be our last."
More interested in somehow loosening the knot in his shoulder than the conversation, Thomas absentmindedly replied, "a harrowing enough day at the best of times, as I recall."
"Ah," said Clara, "so you ARE married then?"
Shaken from his painful preoccupation, Blackhall again allowed his pace to slow. The slackened meter did nothing to ease his aches, yet he cleared his throat and said, "I knew a man who was asked the same question once.
"I heard the tale when consulted as to if I could help his wife.
"Did your grandmother ever whisper against a scoundrel with the notion that he had hold of some dead man's coins? "
The Bell's shook their heads as they blew meager warmth into their cupped hands.
Thomas continued.
"This fellow, Bartholomew, stood over six feet and had the sort of smile that made you feel his friend however long you'd known him. He'd married young after a passionate romance, but his handsome features lead him oft into temptation. There was not a lonely maid or unhappy housewife in the county who did not look him over fondly, and he did bask in their attentions.
"His work as a carpenter regularly called him far from home to lay crossbeams or repair rooves, and it was in these times that his will was at its weakest, for the maidens of the surrounding climes saw only the thickness of his arms and none of the invisible bindings of his union.
"It was during one such job, some repair work on a listing barn, that he finally surrendered himself. His paranoia, however, was immediate, for it soon came out that his flame had a sister in his hometown, and, unaware that he had other obligations, his soft-limbed lover was eager to join him there to continue their all-too-hasty courtship.
"While explaining his troubles, that evening, to the mate who usually acted as his aid, and who knew more of his situation than any other, the suggestion arose that he might try a pair of deadman's coins – that is, the coins laid across the eyes of the deceased to supposedly pay for his journey across the Styx.
"The help-mate's grandmother – and my own – had often levelled the accusation that such tender was capable of blinding a spouse to infidelity if placed in their drink, and, it so happened that, in the very house they were staying, an uncle was on display to collect condolences before his internment – in fact, it was the very damage to the cattle shed on which they worked that had set the man low.
"At their departure, Bartholomew brought away more than just his agreed-upon payment.
"Of course, as was their tradition on every previous occasion, his wife had kept anxious watch for his return, and ran into the field to greet him.
"Two months later, with his mistress safely installed in her sister's home, he was finally discovered. While collecting wild strawberries to jar, a quiet footed widow had stumbled across a tryst amongst the tall grass.
"Bartholomew rose in a panic. Though a weak man, he never intended direct harm to his wife. He did love her, in his way, but his reason was captive to his instincts.
"With barely a word to his still-naked paramour, he rushed home.
"Placing the stolen tokens in his wronged wife's dandelion wine, later that afternoon, was all that saved him. At the same moment she took her first sip, some ten miles off the berry-hauling grandmother was nearly trampled by a team of horses. She survived with only a weekend's recovery – a fortunate thing, considering her age – but all memory of her expedition was wiped from mind, and she carried an aversion to jams for the rest of her days.
"Bartholomew nearly threw over his affair then, but the lusty promises made in secret missives from his spurned concubine were too much, and, instead, he derived a plan to sooth his loins while maintaining his household.
"Telling her they were meant to bring luck, he affixed the charms to the base of her favoured tin cup. As she sipped from it each morning, it would renew her artificial myopia – and, perversely, each time she finished her draught and spotted the devices, she would be reminded of him.
"That is, until the following year. In the interceding time Bartholomew had grown brazen, going so far as to carry on even in the out structure that acted as his shop. He did not know that, in a rare turn, his wife had decided to bring him his noontime meal.
"I suppose the fates, or whatever mystic body governed the magic, could find no other escape for the philanderer. The moment she pushed wide the door the poor woman was immediately and without cause struck truly, and permanently, blind.
"Unheard by the screaming, panic stricken, wife, his lover retreated for the final time, uttering the same words you had – though with greater disbelief.
"'So you ARE married then?'
"I suspect that it was the same working that kept his wife unaware that prevented any in the area from breaking the girl's heart with the truth of the matter."
Though their lips trembled only from the cold, the disdain and disappointment was obvious in the Bells' eyes.
Unexpectedly, Thomas moved to defend him. They did not notice his weakening tone.
"He was a rogue it's true, but when I passed through, a year later, they were still happily married. He had abandoned his old ways – because of guilt, yes, but also due to the simple fact that his wife's state was, at least in the beginning, largely one of hopelessness. Her care meant that he could no longer roam and build, and he was forced to turn his hand to the land. An untrained body does not know how to make its way through this world without its primary sense. Every chair, step, hot stove, and forgotten broom was now a threat.
"There was something more though. I believe the enormity of his transgression passed into his mind in that moment, causing a transformation that no lesser shock could have managed.
"A new tradition formed. With careful hands she fashioned simple sandwiches at the warmth of their kitchen window, then she would proceed with tender strides towards the entrance of their home. From her perch she would sing a tune of her youth, a warbling song of spring and foolish love, and he would come in from the fields, grateful for the meal.
"I should add, as well, that I was told the story from her own lips. He could not forgive himself without confession, though it says much of her fortitude and grace that she found it in her to grant him pardon."
Despite Blackhall's quiet intonation, James smirked at this conclusion, pulling his wife tight to him. Clara's gaze, though, remained firmly on the straining face of the ship's captain.
"There is something in the curl of your lip that tells me there is more to the tale," she said.
Thomas made his best effort to shrug.
His mind was too soaked with fatigue to make any more happy reply than, "I know his conversion was an honest one as he was truly broken when she tumbled into the well some six months after my visit. The news that he'd laid a pistol to his temple at her burial came as an honest shock."
There passed two hundred yards of silence, then another cramp set in. The depth of this new pain was too much for Blackhall to bare and reflex drew his arms sharply to his body. The Green Ship halted it's progress as it unfurled, but its startled passengers were less lucky.
It was not a pleasant descent.
Flash Pulp is presented by http://skinner.fm, and is released under the Creative Commons Attribution-Noncommercial 3.0 Unported License.
Freesound.org credits:
Text and audio commentaries can be sent to comments@flashpulp.com – but be aware that it may appear in the FlashCast.
– and thanks to you, for reading. If you enjoyed the story, tell your friends.