True Crime Tuesday: Perception Problems Edition

Today's True Crime Tuesday is actually made up of articles handpicked by the mighty Opopanax, but, as I read through her suggestions, I noticed an odd thread running through the trio of tales.
We begin our journey of discovery in southeast Michigan, by way of The Daily Mail:
The robbery happened about 11:30 a.m. Saturday at a Fifth Third Bank branch in Macomb County's Clinton Township, about 15 miles north-northeast of Detroit.

Police say a woman about 60 years old told bank employees she had a bomb in her cloth bag and demanded money.
It's hard to divine intentions from such a short article, but I feel like Michigan's current hard times will only bring on more of this sort of thing. This lady should be babysitting grandchildren or playing Cribbage, not robbing banks.
The suspect was roughly 200 pounds, Clinton Township Police Sgt. Deena Terzo told the Detroit News.

'It was a closed bag, so you couldn't see into it, and no one wanted to open it,' he said.
I'd be jumpy too, given the state of the world, but the only real danger was perhaps that of being fed a hearty meal.
After [she] fled, the Michigan State Police Bomb Squad evacuated the building.

While performing an X-Ray on the bag, they discovered two cans of spaghetti sauce.
While I have sympathy for the those who were in perceived danger during the spaghetti heist, it's hard to understand what exactly Richard Treis' views are – and I'm not just talking about that milky Bond villain eye, either.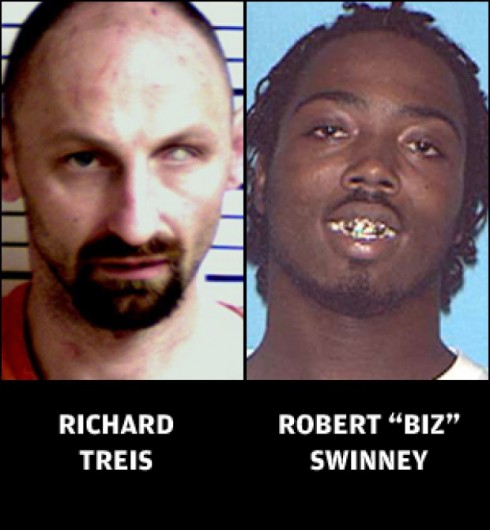 Text and image from STLToday.com
Seven people […] face federal charges, including conspiracy to make meth, possess pseudoephedrine and drug-making equipment, distribution of meth and maintaining a drug-involved premises.
Meth is definitely the drug of our time – its relative ease of creation almost makes a downward spiral of addiction and despair into a DIY project.
Still, sometimes, as with Bob Villa or Extreme Makeover: Home Edition, it takes a team.
Police said Swinney had to mobilize at least 150 people over 24 months to comply with purchase restrictions while buying enough decongestants to support the needs of meth cooks[.]

Swinney recruited relatives, gang members, homeless people and random others, Briggs said. "Just about every day, they were standing outside of stores handing out $20 bills asking people to buy a $10 box and keep the change."
Forget what I said about DYI projects, this is almost the Wikipedia of drug addiction. What do you do when that sizable a portion of your community has a hand in the supply chain?
Despite the ten dollar bounty, Swinney wasn't losing any money –
The investigator said Swinney sold to Treis and others at $50 to $80 a box. Swinney told police he lived off of the money for the last two years.
– and the sight of green can make even the worst of people colour blind. (Maybe especially if you only have one good eye.)
Treis, 38, joined the Aryan Nations while in a federal penitentiary for meth-related crimes, according to Franklin County officials and the Drug Enforcement Administration. They said Swinney, 22, is a documented gang member.
As for Jerimiah Hartline, 19 – well, as UPI reports, he may as well have been blind as far as his driving skills are concerned.
The California Highway Patrol said Jerimiah Hartline, 19, of Tennessee stole the semi from a weigh station on Interstate 15 in Rainbow around 6 p.m. Saturday and drove it to Temecula, where he collided with a Toyota Tacoma that in turn struck a Toyota 4-Runner and a Mercedes, The (Riverside) Press-Enterprise reported Wednesday.

Investigators said Hartline struck two other cars before losing control of the truck, which flipped onto its side and blocked all four northbound lanes of the interstate.
Maybe it's just me, but as soon as a truck gets flipped over I start thinking Arnold has come back from the future to save us from Robot Armageddon. Jerimiah had a different apocalypse in mind, though.
Highway Patrol spokesman Nathan Baer said Hartline climbed into a van and demanded a ride, but the driver instead pulled him out of the vehicle and held him with the help of other bystanders until officers arrived.
What danger was so imminent that he required such a dramatic escape?
"He said zombies were chasing him and he had to get out of here," Baer said.
I think "rushing home to catch the latest Walking Dead" would have been an equally valid lame-excuse. There is, however, the possibility that his "doors of perception" were simply ajar.
Baer said police have yet to determine whether Hartline was under the influence of drugs.