FP330 – Mulligan Smith in Can't Live with Them, Part 2 of 3
Welcome to Flash Pulp, episode three hundred and thirty.
Tonight we present Mulligan Smith in Can't Live with Them, Part 2 of 3
[audio:http://traffic.libsyn.com/skinner/FlashPulp330.mp3]Download MP3
(RSS / iTunes)
(Part 1 – Part 2 – Part 3)
This week's episodes are brought to you by Nutty Bites
Flash Pulp is an experiment in broadcasting fresh pulp stories in the modern age – three to ten minutes of fiction brought to you Monday, Wednesday and Friday evenings.
Tonight, Mulligan Smith, PI, finds himself face-to-face with a surly client, and the man's nervous dachshund.
Mulligan Smith in Can't Live with Them, Part 2 of 3
Written by J.R.D. Skinner
Art and Narration by Opopanax
and Audio produced by Jessica May
Mulligan's morning had largely consisted of asking neighbours and friends about the disappearance of his client's wife, Monika.
It had been a short process.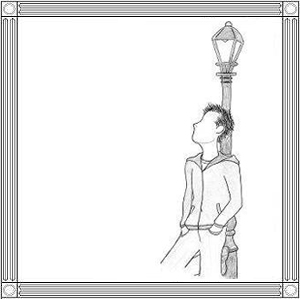 After he'd run through the houses that flanked the Dougherty home, and the single set of parents who used her day care services, Smith knew that the woman had seemed kind but distant, loved children, and was very forgiving about being paid late. They had little else to offer but questions and conjecture.
The mother of Julian, the boy Monika had been walking to school on behalf of his steel worker parents, had suggested that things were perhaps not always great between the missing and her husband, but that she'd felt it was none of her business. Later, as he'd stood to leave the Dunkin' Donuts at which they'd met, she'd also asked if the situation was at all connected to the vanishing of Lita Carver.
"Who?" Mulligan had replied.
His afternoon had subsequently been spent online, at a small desk beside the non-fiction autobiographical S's of the Capital City Public Library.
There were three references to Lita: The first was a quick mention in her father's obituary, and the second a quote from a schoolyard hot dog sale she happened to have visited. Both items were years old and likely entirely unrelated to the matter at hand. The third, however, intensified Julian's mother's question.
Lita had been married to a Marshall Carver nearly two decades, producing a single son, Mayfield. The boy's birth announcement in the Capital City Daily, and a bit of math, told Mulligan that the youth was now seventeen. Mrs. Carver had gone missing on May 18th of the previous year, after having walked the teen to school, as reported when Marshall arrived home from work that evening. Lita's history of – as her husband put it – "dramatics" had convinced the police to conduct an immediate search.
Creeping further through the records for follow-ups had provided the PI only frustration.
A phone call to Marshall forced Smith to be up for the second early morning in a row. The man had insisted – much as his client had, though in a more even tone – that Mulligan conduct his interview before business hours.
"- and what is it that you do, Mr. Carver," Smith had asked ten minutes after snaring a prime parking space on the road alongside Eastern High School.
"I sell knives," replied Marshall, "High-end custom kitchen blades. Everything you'd need to peel an apple or a pig."
Upon his arrival he'd told Mulligan that he'd taken over his wife's duty of escorting their son in the year since her disappearance, and the investigator had had a brief opportunity to meet the teen.
The Carvers had been dressed identically – light green polo shirts, well-pressed khaki slacks, chrome Breitling watches, and a pair of carefully parted haircuts, both swept to the left – and, following an exchange of hellos with the detective, Mayfield had moved to kiss his father and depart.
As such, the discovery of Marshall's occupation had simply unsettled the already fatigued Mulligan further.
"How did Lita spend her time?" he asked, letting his interviewee trail ahead a step as they began walking towards the man's residence. Mulligan had little interest in allowing Marshall's cutting experience and dead smile behind him, but it was necessary to share the sidewalk with a sharp-elbowed crossing guard and her merrily swinging stop sign.
"Why is a private investigator looking into my lost wife?" Carver responded.
Smith could detect no difference between this question's tone of delivery and the earlier mention of butchery, but the school employee did cease her unthinking waving.
Noting her blue and red hair, Mulligan gave her a nod as he passed, but held his tongue till he was out of her earshot.
Finally he said, "another woman, Monika Dougherty, has gone missing. She lived three blocks away, and it has the same sort of feel as Lita's case. I was wondering if you might have some insight into the situation."
Carver stopped then, turning back towards Smith and locking his eyes on the detective's.
This was close to a show of emotion as he came before explaining, "I do not know where my wife is, but, when I do find her, I will lock whoever is responsible in a very small room. In that room I will place a single hotplate. I own a pair of gloves – I bought them on the internet – that are amazingly resistant to heat, but provide enough flexibility to use your fingers with precision. I've also purchased the entire Carbon series of knives, a product I myself sell. I invested in them because I know, from experience and from the literature, that the line is heat resistant up to 800 degrees.
"I will arrange the set – from paring knife to butcher's blade – on the burners, and, once the steel is glowing, I will use them to shave away the person in question. I'll start with their toes, then their feet – don't worry, there's a Japanese Deba knife in there that'll easily handle the bone – and I'll just keep working my way up. I may not be able to go through their shins, but I bet I can cut and cauterize some solid turkey slices from their calves.
"Once the accountable party has clarified their actions, and apologized, I'll allow them to die. I know a pig farmer who'd trade almost anything for some of our out-of-stock product."
Marshall ended the statement with a dry "ha," as if he'd intended the whole thing as a bit of joking bravado.
Mulligan, however, had no further questions.
Flash Pulp is presented by http://skinner.fm, and is released under the Creative Commons Attribution-Noncommercial 3.0 Unported License.
Freesound.org credits:
Text and audio commentaries can be sent to comments@flashpulp.com – but be aware that it may appear in the FlashCast.
– and thanks to you, for reading. If you enjoyed the story, tell your friends.