FP354 – Mulligan Smith in The Seven Year Itch
Welcome to Flash Pulp, episode three hundred and fifty-four.
Tonight we present Mulligan Smith in The Seven Year Itch
[audio:http://traffic.libsyn.com/skinner/FlashPulp354.mp3]Download MP3
(RSS / iTunes)
This week's episodes are brought to you by Nutty Bites
Flash Pulp is an experiment in broadcasting fresh pulp stories in the modern age – three to ten minutes of fiction brought to you Monday, Wednesday and Friday evenings.
Tonight, Mulligan Smith, PI, finds himself dealing with a randy sidekick, illegal chemistry, and a burning secret.
Mulligan Smith in The Seven Year Itch
Written by J.R.D. Skinner
Art and Narration by Opopanax
and Audio produced by Jessica May
It was one of Mulligan's least favourite sort of conversations, and Billy Winnipeg's attempts at being smooth weren't helping.
There were six people around the table: Smith's towering companion, Chester and Eleanor Rice, Darnell and Charlene Byrd, and the PI himself.
Eleanor was the client, but the increasingly confused Charlene was the target of Winnipeg's preoccupation.
Before Billy could repeat his line about women aging like fine cheese, Smith said, "what we have here is an embarrassment of tantalizing facts, right?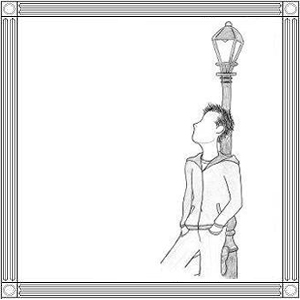 "Drugs, jets, 4am phone calls, thick-armed tough guys – it should add up to something fun, but it doesn't. A lack of honesty has to go and ruin it all.
"For example: Ladies, did you know that your husbands are oblivious to the fact that you suffer infrequent yeast infections? Chester, were you aware that Eleanor stumbled onto the pharmacy you'd hidden in the bottom of the linen closet? Darnell, do you realize how scared Charlene has been for you?"
Mulligan had already charged Eleanor's credit card, but his client's demand that all involved meet simultaneously to hear the results of his investigation had given him an opportunity to indulge in a greasy toasted Western at Martha's, and, as much as he hated the nature of the discussion, he was determined to draw out the truth long enough to prevent his discoveries from disrupting his meal.
Around a mouthful of omelette and white bread the detective said, "for my money, if you're not in a relationship that can divulge the unfortunate stuff you're not in a relationship at all."
Billy nodding, added, "I'm an open book."
His understanding eyes lingered on Charlene.
With a wince, Smith lifted his phone and scrolled through his notes.
"So," he said, "on the eighteenth of last month Eleanor finds a little blue lunchbox beneath the ugly backup guest sheets, and is startled to discover a couple of unlabeled prescription bottles and a baggie full of pills within. Being a primary school math teacher, and the sort of person who gets nervous even when just being approached by traffic cops, she freaks out.
"Between Pinot Noir, online early childhood development forums, and her crafting groups, she's not generally the type to spend a lot of time reflecting – but she starts connecting the dots.
"There were Chet's trips to San Jose every few months for 'work,' the new password lock on his phone, and the gifts: Designer sweaters, sleek necklaces, chunky rings.
"Logically – as she saw it – she assumed he'd fallen in with a Mexican drug cartel."
Chester shifted, pulling his blazer jacket tight to his thin chest. He sighed.
Before the silence forced him into saying something more, however, Mulligan saved him from having to make a reply.
"Despite her small town upbringing and deep moral fiber, Eleanor didn't want to rat on her husband. She also wasn't sure if her suspicions were correct. That's where I came in.
"Backtracking from Chester's meticulously filed San Jose receipts I came up with a consistent name co-insured for the rental cars: Darnell Byrd.
"Better yet I discovered that, though Mr. Byrd also spends a lot of time in San Jose, he too happens to live north of the city. I dropped in to meet him in person, but he was out for the day.
"Still, his lovely wife, Charlene, greeted me at the door and it required very little fishing regarding San Jose to get her talking about her own problems.
"Her husband had been receiving cell calls that left him stressed. When they rang he would depart the room, and all she could hear of the conversations were hushed and aggravated tones. He tried to keep it cool when he came back in, but he really only leans in to kiss her like that when she's sad, it's her birthday, or it's one of those calls.
"Some snooping on Charlene's part had figured that the numbers all originated from a San Jose area code.
"Worse, a month earlier a large man in a thick leather jacket had parked a chopper in the yard and marched his black bike chaps to the door. He'd looked annoyed when she answered his knock, and he'd just grunted when she told him Darnell wasn't in.
"As he pulled out, however, she noticed that he had California plates.
"At this point in our talk it became clear the pressure had been building a while. The tale started pouring out.
"She doesn't even really love Darnell anymore. He's a good man but it feels like their lives are going in different directions. She's staying with him because she's so afraid he's gotten himself into something he can't handle.
"She didn't know who or why, but she figured Darnell must owe someone in San Jose a solid chunk of change."
Throughout the explanation Darnell's face had appeared to be made of neutral stone, but his lower lip was now slowly disappearing beneath his upper teeth.
Across the table, Billy threw a compassionate shake of his head in now-blushing Charlene's direction. Smith's eyes ground against the roof of their sockets.
The PI continued.
"So, before taking on the glamorous expense of flying to San Jose, I took on the considerably less glamorous job of combing through your trash cans. You know what I found?
"Yeast infections.
"A few phone calls, and a bit of online prying, and suddenly everything was obvious.
"Drugs, hard men, coastal California – it can sound black and white, but, when a possibly coincidental shared STD entered the picture, I realized it added a whole rainbow of colours to the case."
Pausing, Mulligan pushed the final corner of toast into his mouth – then, swallowing, he said, "male yeast infections are rare, but they happen. Untreated I suspect you could be passing it back and forth for quite a while. Might I suggest that the reported infrequency of both couple's sex lives coincides with the infrequency of Eleanor and Charlene's embarrassing problems?
"Might I also suggest that you gents do the respectful thing and take down your supposedly anonymous Grindr accounts until you're properly into divorce proceedings?"
Martha, taking the silence that followed to mean the meal had ended, approached to ask about the bill.
"Split six ways, I think," replied Smith, as Charlene's still-stunned gaze bounced between the waitress and the detective.
After another quiet beat, Billy cleared his throat and said, "actually, I'll cover her's."
Flash Pulp is presented by http://skinner.fm, and is released under the Creative Commons Attribution-Noncommercial 3.0 Unported License.
Intro and outro work provided by Jay Langejans of The New Fiction Writers podcast.
Freesound.org credits:
Text and audio commentaries can be sent to comments@flashpulp.com – but be aware that it may appear in the FlashCast.
– and thanks to you, for reading. If you enjoyed the story, tell your friends.