Welcome to Flash Pulp, episode two hundred and fifteen.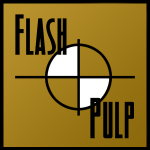 Tonight we present, Homegrown, Part 1 of 1.
[audio:http://traffic.libsyn.com/skinner/FlashPulp215.mp3]Download MP3
(RSS / iTunes)
This week's episodes are brought to you by Asunder.
Flash Pulp is an experiment in broadcasting fresh pulp stories in the modern age – three to ten minutes of fiction brought to you Monday, Wednesday and Friday evenings.
Tonight, Mulligan Smith, private investigator, finds himself trapped in a labyrinth of horrors.
Mulligan Smith in Homegrown, Part 1 of 1
Written by J.R.D. Skinner
Art and Narration by Opopanax
and Audio produced by Jessica May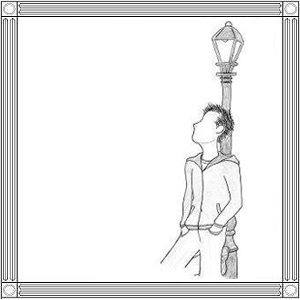 Smith was tempted to pull his hands from his hoodie pockets, so that he might feel his way along the poorly lit corridor, but he refused to deepen his friend's anxiety by appearing to be stumbling about the place. Instead, he depended on quick elbow work, and a slow shuffle, to navigate the plywood halls.
Ahead of him, a woman screamed.
It brought him up short, but Mulligan knew that if he lost his forward momentum there would be problems.
"C'mon," he said, "it's just hooligans."
"Stay out of my face," Billy Winnipeg told the darkness, "or I'll lay you out like an abandoned highway."
Taking a sharp left, they stumbled into a slat-walled room. The space was lit by a single flickering bulb, and the sound of rats scurrying appeared to come from just out of sight.
Before Smith could better inspect the room, Winnipeg's rough shoulder encouraged him into the connecting tunnel.
As a chainsaw roared at the far opening, Mulligan wondered if the big man regretted his rush. He could hear Billy cursing and turning to retreat, but the Canadian was brought to a halt by a silent woman, in a crimson gown and domino mask, standing directly behind him.
"Just lemme be," Winnipeg muttered, but Smith prodded him firmly in the spine, and drew him on towards the clatter of the motor.
They stepped into the chamber, only to be pinned by a spotlight, and, as they shielded their eyes, the engine suddenly ceased.
The room was decorated in scrawled red writing, but the radiance had crippled Mulligan's night-vision, and he could barely discern the text.
Billy, eager to recover his honour, motioned the detective onwards, and proceeded to the gloomy mouth of the next passage.
It was as they moved blindly through the apparent void that Smith heard a whisper at his ear.
"Herb?" said the invisible man.
"Yeah," replied Mulligan.
A rough hand grabbed at his sweater sleeve, and he felt himself redirected into an access way alongside the hall. Although completely lost, the heavy tread of Winnipeg's boots, still close at hand, was reassuring.
Smith had been deliberately vague with Billy when he'd told him the facts of the case – he'd only emphasized its importance, which was essential to convincing the spookable Canuck to join him in venturing through Capital Gardens' annual haunted houses.
Although the decaying tourist trap was amongst the city's least visited attractions, its Halloween exhibition transformed the hothouses and office spaces into a maze of blankets, plywood, and underpaid temporary workers.
In truth, Mulligan found that the the mix of filmy glass, and jury-rigged plastic sheeting, appeared somewhat sinister enough at the best of times, which was why he'd brought along his companion.
Now, however, with his friend's breathing obviously approaching the edge of panic, Smith began to feel some regret at his lack of clarity about the situation's seriousness, and he wished he'd been more honest regarding the single mom of four, a waitress who'd haggled his price down to something she could manage on her thin income.
He'd met Mrs. Henry three weeks earlier.
"She's a real shit-digger. She's coming home with extra cash, and she doesn't explain it. Hell, sometimes I think she's bringing in more than I am," were her openings words.
As he stood in the murk, Smith had to remind himself that it was only a teenage girl of which she had spoke. He'd been following Cecilia Henry, seventeen, since then, but, despite her mother's concerns that she was busy turning tricks, his time was largely spent watching her work at the gardens, or observing her at home, where she occupied herself with homework and bossing siblings.
Still, her demand for efficiency made Cecilia a natural leader, and in the low-pay environment of the nearly bankrupt gardens, it had seemed to the detective that she'd worked her way into a controlling position over the small workforce of high school students.
Smith admired her drive, if not her means.
Another light came on, hung directly from overhead, and illuminating a short plaster pillar.
The stand's flat surface was empty.
"Money," demanded a female voice, from somewhere beyond the tight ring of brilliance
There was a three second window in which he was tempted to lay down a twenty and see what kind of stagecraft would happen next; he suspected a second spot would come on, revealing his purchase. He even wondered, briefly, if the plants were grown in one of the nearby flowerbeds.
Then a startled fun-seeker gave a far-off shriek, and Winnipeg exploded. "YOU DOG TICKLING BASTARDS, WHERE'S HERB!?"
Without waiting for a reply, he charged the murk.
Smith hadn't realized his friend wouldn't recognize the street-corner marketeer's ganja selling call, and he could only assume Billy's mind had constructed a kidnapping plot around an imaginary Herbert.
There was no opportunity to correct the mistake before the impact.
It would have been worse for the two delinquents that Winnipeg had managed to clotheslines, if it weren't for the fact that the illegal detour had brought them into a room constructed of plywood on three sides, and a heavy tarp for the fourth. While the flimsy construction was impossible to identify from the interior, as Billy's force carried him into the makeshift back-wall his bulk tore away the massive patch-job, flooding the false room with parking-lot lights.
There were a chorus of expletives thrown out, but Mulligan couldn't miss the "shit-digger!" amongst the bunch.
Turning towards the sound, he grabbed the shoulder of the lithest of the black-sweater wearing teenagers who were attempting to scatter at the sudden exposure, and tugged off her cloth skeleton mask.
A distant siren split the air.
* * *
The next morning, as Smith paid up the tab for Billy's Moons Over My Hammy, his gaze drifted over an abandoned newspaper left splayed at the counter. He was pleased to read that a drunken brawl amongst miscreants had broken up an apparent drug ring at the likely-to-now-close Gardens.
He also had to admit some satisfaction in noting that the police currently held no suspects. It had been a near thing, but, when he'd delivered her daughter home, the fire in his client's eyes had convinced him that Cecilia already had more than enough to fear in her future.
Flash Pulp is presented by http://skinner.fm, and is released under the Canadian Creative Commons Attribution-Noncommercial 2.5 License.
Text and audio commentaries can be sent to skinner@skinner.fm, or the voicemail line at (206) 338-2792 – but be aware that it may appear in the FlashCast.
– and thanks to you, for reading. If you enjoyed the story, tell your friends.