Welcome to Flash Pulp, episode one hundred and eighty six.
Tonight we present, Mulligan Smith and The Bitter End, Part 1 of 1.
[audio:http://traffic.libsyn.com/skinner/FlashPulp186.mp3]Download MP3
(RSS / iTunes)
This week's episodes are brought to you by the bistrips comic Treed.
Flash Pulp is an experiment in broadcasting fresh pulp stories in the modern age – three to ten minutes of fiction brought to you Monday, Wednesday and Friday evenings.
Tonight, Mulligan recounts a tale told to him by an estranged father.
Flash Pulp 186 – Mulligan Smith and The Bitter End, Part 1 of 1
Written by J.R.D. Skinner
Art and Narration by Opopanax
and Audio produced by Jessica May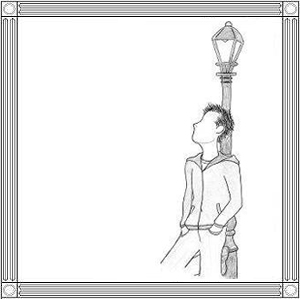 Mulligan and his friend, Billy Winnipeg, were making their way home from a long night of waiting. Smith had been hoping for more quiet over the course the evening, but his companion's wagging tongue, and the drive still ahead of them, had left the PI's mind churning at a tale of his own.
As they accelerated onto the highway that cut across the heart of Capital City, he began.
"The story goes like this. One day, Rodney is sitting in the front seat of a borrowed car. He's got a letter written in pencil crayon tucked into the breast pocket of his coveralls, grease on his knees, and a .22 pistol in his lap. He's crying.
"The letter is from his son, who's eight, and it basically says, "Edwin is a bastard. Save me! Love, Jay""
Billy wiped mayo from the corner of his mouth.
"Edwin?" he asked.
"The boy's step-dad.The whole thing is eating Rodney up, and he's in front of the house Eddy shares with the kid and his mom, Maggie. Rodney is sick inside because he's broke, Maggie ain't interested in reconciliation, and he's done begging to get her back. There's no way he's getting custody of Jay, but he's thinking starting over in Mexico would be a great opportunity anyhow – figures if he fixes cars he can't afford here, why not there?"
"Wiping away the tears, Rodney finally takes a deep breath, gets out of the car, and kicks in the door.
"Now, what he doesn't know is that Edwin ain't exactly a slouch. While his visitor is busy trying to avoid the door swinging back at him, Eddie has managed to clear the couch he was watching golf from, and, before Rodney can bring the gun around, he manages to grab it – he described it to me as a magic trick: one second he was holding the piece, the next he wasn't.
"Well, suddenly unarmed, Rodney makes a break for it. He runs out, hops in the faux-wood-paneled station wagon, and putters away the highest speed his ride can manage. He got home OK, but, afraid the cops were going to come down on him, he skips town, and heads south for three years.
"He gets a job, life settles a bit for him, but he can't stop thinking about Jay. He starts drinking, always, he told me, to toast his son. Five months into his exodus, he gets word that no one is looking for him, or has asked after him. So far as Rodney's few friends could tell, they weren't even certain that Edwin reported the incident.
"It's not too surprising that he wasn't a suspect, given that he and Maggie hadn't spoken in half-a-decade at that point – hell, the letter was the first word he'd received from Jay in twelve months – but Rodney was reluctant to climb from the comfortable whisky rut he'd found himself in.
"Much later, on a July night, while drinking alone in a bar named Long Tom's, Rodney stares through his beer goggles at the wreckage of his life, and suddenly sees a ridiculous plan.
"The next day he heads back to the shop and chops a length of piping. After work he packs it full of black powder, and starts driving. He's got it in his head that if he just kills Edwin and Maggie, then Jay is his.
"His optimism might have been related to how much his friend, Jim Beam, was whispering to him.
"Anyhow, he gets a quarter of the way here, and stops at a McDonalds to make room for more bourbon. While getting back in the car, he figures he'll check the trunk to ensure the gym-bag with the device is still holding together. Now, its a pretty basic device, and its hard to say how he managed to accidentally light the fuse – my guess, although he didn't admit to it, was that he was smoking with the shaky hands of a drunk.
"Whatever the case, it pops right in bag, blows through the wall of the trunk, and removes his kneecap. Wasn't long before someone ran over to check what happened, and found him lying there on the pavement, muttering to himself and missing a sizable portion of his leg. The uniforms patched him up, but they wanted an explanation for the situation, and he didn't have a good one. Landed him two in the can."
Smith rolled his window open, breathing in a lungful of damp night air before continuing.
"Sometime after that, back in Capital City, Maggie is wondering whatever happened to Jay's deadbeat dad. She hires me to go looking for him, and, I manage to track him to a place named O'Neils. He'd been on parole for a few months, and had quickly fallen back in love with hard liqour.
"Cost me a six-pack to get all that information from him.
"He was too quick to tell it, though, and I knew something was on his mind. Instead of reporting my unfortunate findings and collecting my fees, I decided to keep an eye on Rodney for a short while longer. Edwin wasn't hurting for cash to cover the bill.
"It happened the next afternoon. The booze-hound had slept in, but when he got up and hopped some public transportation, I followed along. I recognized the neighbourhood as we entered it – largely because it was my client's.
"I have no bloody idea where he found the sword-cane, or how I didn't figure what it was till he was off the bus."
Mulligan nosed the Tercel into his apartment building's parking structure.
"He was quick for a cripple. As soon as he saw Edwin getting out of his Cadillac, he had that steel flashing, and was bolting down the drive.
"I tried to stop him – yelled at him as I ran. I knew I wasn't going to make it in time."
Smith cleared his throat as he nudged the Tercel towards its resting spot.
"We were lucky though, Edwin and I."
"From the rear-passenger seat steps a teen. Lamp-jawed and curly haired – he had his mom's genetics.
"It's Jay. He's just back from stomping the Delmore Devils in nine innings, all under Edwin's coaching, and he doesn't seem happy to see some shambling maniac wielding cold steel against the man he now calls "Pa." It had been many moons since he'd last encountered his biological father, and you could tell there was no recognition in his eyes.
"Boy had a way with a baseball bat. The first hit folded the wannabe samurai in half, the second bought Rodney's right hand a few extended surgeries."
Mulligan cut the engine and stepped from the car, stretching his legs.
"Took a few years of healing, but I hear that they write each other now. Rodney supposedly hangs them all up in his cell."
Flash Pulp is presented by http://skinner.fm, and is released under the Canadian Creative Commons Attribution-Noncommercial 2.5 License.
INT CAR RAIN HIGHWAY R.WAV by mitchellsounds
acvent.wav by NoiseCollector

Text and audio commentaries can be sent to skinner@skinner.fm, or the voicemail line at (206) 338-2792 – but be aware that it may appear in the FlashCast.
– and thanks to you, for reading. If you enjoyed the story, tell your friends.