Welcome to Flash Pulp, episode three hundred and fifteen.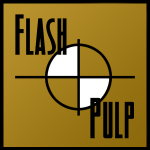 Tonight we present Mulligan Smith and The Peacock, Part 1 of 1
[audio:http://traffic.libsyn.com/skinner/FlashPulp315.mp3]Download MP3
(RSS / iTunes)
This week's episodes are brought to you by Jonja.net
Flash Pulp is an experiment in broadcasting fresh pulp stories in the modern age – three to ten minutes of fiction brought to you Monday, Wednesday and Friday evenings.
Tonight, Mulligan Smith, private investigator, finds himself chasing a cheating husband while listening to a tale of betrayal amongst thieves.
Mulligan Smith and The Peacock
Written by J.R.D. Skinner
Art and Narration by Opopanax
and Audio produced by Jessica May
It was the third, and final, day of the Fisher stakeout, and Mulligan had nothing.
Emil Fisher, his current assignment, was likely sweaty and grunting within the fifteen-story-high condo building, Soho Lofts, but Smith was stuck, in his baby blue Tercel, on the street below.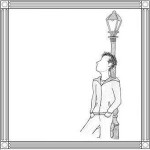 A zoom-lensed Nikon sat on his lap, and, beside him, Walmart Mike was doing his best to provide encouragement.
The sharp-jawed old store greeter was saying, "everyone falls off the horse, you just gotta get back up, dust yourself off, then break that horse's fuckin' knees for being such a goddamn smartass.
"I mean, metaphorically."
Smith could only nod. Bad luck had hounded him at every turn and he knew his sad-eyed client, Corine – a part-time florist and full-time mother of three – couldn't afford an extension.
The first day's fees were blown, after an hour's drive, when a FedEx truck had cut him off and the cheating husband's red Miata was able to zip away. He'd decided to switch to poking at the paper trail, but the hours spent staring at receipts had yielded few answers.
The second day's effort, a week later, had begun more smoothly. Smith had easily trailed the fiery vehicle through lazy Thursday afternoon traffic, but, when the Miata pulled into Soho Lofts' underground parking he'd had little option but to wait and hope Emil came out of the building with his sweetheart on hand. He did not – what interested the letch was within, not without.
The third day the red light indicating a full lot had Mulligan thinking he might've caught a break, at least until Fisher exited his vehicle while wearing a pristine Tampa Bay Lightning jersey. Smith had spent the previous night cross-referencing the building's tenant list – which he'd found by simply using his phone to take photos of the lobby buzzer-system's listings – and an inventory of Emil's email contacts that had been provided by Corine. Smith knew that he was parked in full view of Mallory Banks' fourteenth-floor balcony, but he also knew that a level up, on the opposite side of the highrise, lived Burt Glass, a member of Emil's fantasy hockey league, and, at least by the tone of his emails, an ass-kissing subordinate to Fisher. The PI had no doubt that Glass would provide an alibi if touched for one, or that Emil would bury Corine in a divorce without the truth on the table.
Mulligan had come to hate the Miata, thinking of it's bright colouring and convertible roof as a poke in the eye after his string of defeats.
Finally, he turned to Mike and said, "I don't know what pisses me off more – that this amateur is accidentally outwitting me, or that he might've burned me without my knowing and now he's just rubbing my face in it."
He was annoyed enough to consider working an extra day, pro bono.
The ex-con shrugged. "I knew a guy once, Two-Years Tim, who always thought he was one step ahead.
"Tim needled me for months – well, not only me, all the guys hanging out in the east-end dives. I couldn't pull a sucker to a pool table without Two-Years stepping in and convincing them to haul their money over to a game of dice instead. One time I almost had Dil Pike's Cadillac in the kitty – I'd managed to hook him for a couple hundred, nothing much but Dil was a man of pride and I'd teased the righteous anger out of him. All he had to wager was two hundred and the keys, but Tim sidles up and offers to eat the debt if Dil is willing to race the Caddy against him for slips.
"Now, Dil hated Tim as much as anyone else, and the thought of taking the green monster that Two-Years was driving must have been mighty tempting. I made my Franklins but no one covered the drinks I'd been feeding my mark.
"It wasn't much of a silver lining when he wrecked the Caddy twenty feet off the starting line.
"Anyhow, one day me and Butterfingers, another fella I was acquainted with, got word that a certain gin joint's owner always carried the weekend earnings from his backroom safe to the bank first thing Monday morning. This wasn't the sort of place I hung around, mind you, it was a three story meat market full of college kids and high school dropouts. You couldn't walk by on a Saturday without losing ten percent of your hearing, and it was likely you'd have some overachiever puke a bit of his trust fund on to your shoes as well.
"We knocked together a plan – nothing complicated, simply threaten the guy, handcuff him to a set of stair railings he'd be passing on his way, then run like hell around the corner and to a waiting car.
"Things started smoothly. It was a quiet part of town on a Monday, and I wouldn't've been surprised to learn that the only other folks awake were the unlucky manager and the bankers waiting for him. We pulled into the alley we'd scoped beforehand, and there's a god damn olive Ford Falcon sitting there, big as life. I knew the car.
"Well, it turned out, after a brief but loud conversation, that my companion had been drinking with Two-Years the night previous, and good ol' Fingers somehow managed to tell Tim the whole thing.
"He was doing it exactly as we planned, just ten minutes earlier – he was already down the street, strong-arming our guy. Two-Years thought he knew everything; had his windows down and the Stones coming out of the stereo while he was away, like he was running into a store to buy a pack of smokes and would be right back.
"What an asshole.
"We sat there and watched him stroll up, a bag full of cash in his hand. No one was excited to start chucking bullets and visiting hospitals, though, so he gave us a wave and a smile, then got into the Falcon's driver seat.
"Didn't care if he pissed us off I guess, because the score would've been solid enough to spend a month cooling in Florida.
"I swear, he revved the engine and peeled away with a honk.
"He didn't notice that I'd dropped my stolen shooter onto the white leather bench in the back. To be fair, though, on the highway south of town, the cops DID notice that I'd made off with his license plates.
"What I'm saying is, you gotta face these problems directly. I never had trouble with Two-Years after that."
Smith looked at the block numbers on the Tercel's clock. He looked at the building. He looked at the Miata.
Retrieving the ice scraper he'd forgotten in the back seat the previous spring, he got out of the car.
With the Nikon still in his left hand, Mulligan swung the extendable metal bar hard with his right. A webbed fan spread across Fisher's rear window, and the glass collapsed under the insult.
The vehicle's anti-theft alarm began to bleat its dismay.
Many lights came on within Soho Lofts, but it was only on the fourteenth floor that anyone moved to do stop the clatter.
Emil stepped onto the fern filled space with a laughing-faced brunette beside him, and the Nikon clattered to life, capturing Fisher fumbling for the keyfob in his pocket. Smith wondered briefly if the man might have had better luck in his search if he'd actually been wearing the pants, then he rejoined Mike in the Tercel.
The old man had started in on another story before they'd even pulled away from the curb.
Flash Pulp is presented by http://skinner.fm, and is released under the Creative Commons Attribution-Noncommercial 3.0 Unported License.
Freesound.org credits:
Text and audio commentaries can be sent to comments@flashpulp.com – but be aware that it may appear in the FlashCast.
– and thanks to you, for reading. If you enjoyed the story, tell your friends.