FP267 – Mulligan Smith in Use, Part 1 of 1
Welcome to Flash Pulp, episode two hundred and sixty-seven.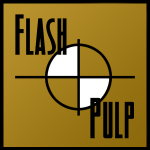 Tonight we present Mulligan Smith in Use, Part 1 of 1
[audio:http://traffic.libsyn.com/skinner/FlashPulp267.mp3]Download MP3
(RSS / iTunes)
This week's episodes are brought to you by Haywire.
Flash Pulp is an experiment in broadcasting fresh pulp stories in the modern age – three to ten minutes of fiction brought to you Monday, Wednesday and Friday evenings.
Tonight, Mulligan finds himself chatting with a golf club carrying killer.
Mulligan Smith in Use, Part 1 of 1
Written by J.R.D. Skinner
Art and Narration by Opopanax
and Audio produced by Jessica May
Despite the July heat, Mulligan Smith was still wearing his black hoodie as he sat beneath a broad-limbed elm and sipped at his coke slurpee.
The grass was thick, and the sun was bright. It was rare for the private investigator, who spent so much of his time wandering Capital City's concrete, to encounter such an plush expanse of green, and Mulligan was fighting the urge to take off his shoes.
If he hadn't had an appointment, he knew he likely would have.
Finally, his thoughts were invaded by the sudden landing of what looked to be a white egg, some fifteen feet from his freedom-yearning toes.
A few moments later, a woman appeared to claim the ball.
"Sure beats a public park, though," Smith replied to the surprised newcomer's peaked eyebrow.
She was forty-four, with hair kept blonde by salon dyes, and a stomach kept flat by her time walking the course. Beneath her white visor – which matched her ivory shorts – she wore thin-rimmed sunglasses.
"It's the privacy that makes it nice," the detective continued, "but what's the point of spending the effort in maintaining this pristine beauty if so few get a chance to use it?"
The dark lenses made it tough to judge her reactions, but Mulligan suspected she had an experienced poker face even under the best of conditions.
"What are you doing here?" she asked.
"Waiting for you, Carol," replied Smith.
"Waiting for me in the rough at the fourth hole's dog leg?" As she spoke, she retrieved a club from her bag. Her motions were calm, but, then, she had a weapon in her grip.
"Yes," said Mulligan. "On Sunday it takes you about twenty minutes to get from the office to here, and another ten to hit the tee. You're a little slow today, but I guess it's because you don't have to race your boss, Hartley, now that you've killed him – it was an accident though, right?
"Anyhow, you also have a terrible tendency to overpower your first stroke on this hole, so I figured this would be a nice place to meet for a quiet chat.
"Name's Mulligan Smith, by the way."
"How do you know all this?" asked the golfer.
She held off on her swing, but it was the only sign that he'd phased her.
Smith resolved to try harder.
"I'm a P.I.," replied Mulligan, "I spent most of last June following you from green to green."
"Why?"
"Your husband thought you were having an affair."
The woman snorted, then, with a near-perfect roll of her shoulders, sent the ball high in the air.
It landed squarely on the fairway.
"Nicely done," said Smith. "Of course, I discovered you were doing exactly what you'd said you were: Giving Hartley a mild bit of competition on the links while schmoozing, in hopes of winning a promotion back at the shop. The practice wasn't getting you anywhere, though, was it? Well, that is, not till his funeral that September."
Carol's motions were deliberate as she returned the five iron back to its wheeled bag. "Guess not, otherwise I'd be on the green. It's been an interesting chat, but it's time for me to go."
From beyond her retreating shoulder she added, "if you follow me, I'll call security. Expect a restraining order shortly."
"I've got video," replied Mulligan.
She stopped and turned.
"Video?"
"Yeah, a few mean slices, and a few poorly timed hits of the long ball – all aimed generally at your boss' noggin'."
From over the rim of her glasses, Carol squinted.
"Oh, I get it now: Blackmail. Well, tough luck, pal, it was an accident. It wasn't me that killed Hartley, it was his popping cyst, which I didn't know about it."
"That's not what Craig says. He seems to recall you mentioning it repeatedly over the years. He remembers it especially because you don't often have the chance for conversation.
"Tough to prove a case like that, maybe, but, between the recordings and your hubby's word, I think we can probably prod a sympathetic member of the local constabulary into action.
"I hear Mrs. Hartley is getting married again – it might give her some comfort."
"Craig? – but why?"
"To hear him tell it, he's been pretty patient with your years of ass-kissing, but – even after cutting your green time down to just Sundays – once he learned of the extended work hours your promotion was going to mean, he realized your promise of having more time for him would never happen.
"I've been to your place, you know. It reminds me of this golf course, in some ways. Shame to build such a beautiful thing without getting any use out of it.
"My client is ready to move on. He wants a divorce. He also wants the house and the Prius. Most of all, though, he doesn't want any arguments or lengthy legal proceedings. He knows how competitive you can get."
Behind the tint of her glasses, Carol considered the proposition.
At the hole's tee, a trio of frat boys had gathered. Their shaded eyes and exchanged shrugs had not yet worked them up to shouting something at the interfering loiterers, but Smith could tell, even at that distance, that it wouldn't be long.
On Mulligan's left, the sound of sprinklers drifted up from the depths of a small ravine.
"You know," said Carol, "I hate golf. The problem is that I got a reputation as a solid player, and, though it didn't help me with Hartley, it sure opened a few clients' doors.
"Fine. Tell Craig – tell him I'm sorry, and that he can have all of it."
Clearing his throat, Smith replied, "he'll courier the paperwork to your office on Monday."
She nodded, then, leaving her ball where it lay, she walked from the course and towards the parking lot.
Once she was gone, the detective stood and wiped the clinging clippings of greenery from his jeans.
In reality, although he had truly witnessed the near misses, Mulligan had no video. After a week and a half of observation he'd been entirely confident of her marital integrity, and so, as he wasn't particularly a fan of amateur sports, he'd dumped the video to free up space for future paying endeavours.
Even if he'd kept it, however, he knew it was an aggrieved husband's word against his wife's, and unlikely to gain much traction in court.
It seemed like poor justice, but he hoped that Hartley's widow might find some happiness, now that the way had been cleared for her impending marriage to Craig. Perhaps it was nothing more than their mutual sense of abandonment that had held them together since their meeting at a company function, but at least she'd get to spend some of Carol's money.
With a shrug, Mulligan headed for his Tercel.
Flash Pulp is presented by http://skinner.fm, and is released under the Canadian Creative Commons Attribution-Noncommercial 2.5 License.
Freesound.org credits:

Text and audio commentaries can be sent to comments@flashpulp.com – but be aware that it may appear in the FlashCast.
– and thanks to you, for reading. If you enjoyed the story, tell your friends.