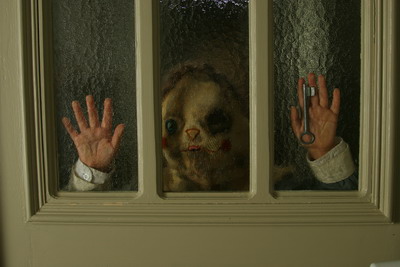 Part of the beauty of folk legends is their tendency to contain just enough reality to make them seem plausible to a worried mind, while never really properly conveying the facts.
For example, have you heard of the haunting of Gore Orphange?
For over a century visitors to Gore Orphanage Road have reported strange experiences of glowing lights, apparitions and chilling cries of unseen children.

[…]

Orphan children ran away from the home, often wading through the Vermilion River to escape to Vermilion. The children told horrific stories of abuse, neglect and slave labor. The children were said to eat a diet of calves lungs, hog heads and sick cattle – if they were fed at all.
I suspect the popular name for the place was what kept the institution in the public consciousness – although, like many details in such cases, the attribution is incorrect.
Light of Hope, the actual name of the orphanage, was established in 1902 by a religious zealot named Reverend Johann Sprunger. The orphanage was located on Gore Road.
The environment within might have been harsh, but then, so were most, if not all, orphanages of the same period. To be sustained in the realm of folklore, it required something more.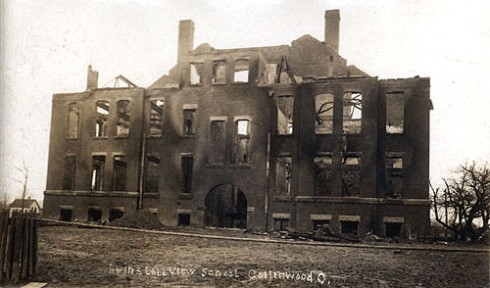 176 elementary school students were burned or trampled to death when they became trapped in a stampede situation and couldn't escape a fire that was consuming their school. The children began descending down the stairs to the exit after the fire alarm was sounded, but the front stairwell was blocked by flames. According to witnesses, the children at the front broke from the lines and tried "to fight their way back to the floor above, while those who were coming down shoved them mercilessly back into the flames below." Those who made it to the rear exit found it locked. Outside rescuers unlocked it but found it opened inward, so it was impossible to move against the press of dozens of desperate bodies.
Amongst even the locals, the death of so many little ones became nearly immediately associated with the orphanage on Gore Road, despite the fact that the fire took place forty miles east of the site.
It's that kind of connection between only vaguely related items which can add up to a generational spook tale.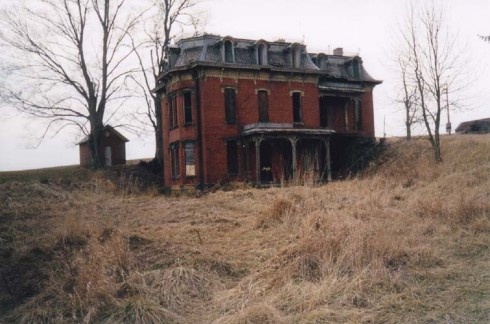 Then there's this excellent bit of myth regarding the supposed ghosts of "Mudhouse Mansion".
One legend tells of a government official who lived there after the Civil War and still kept slaves, locking them in one of the outbuildings at night. One night the slave dug his way out, entered the house, and slaughtered the entire family.
A neat little story regarding the balance of power and corruption, but, of course, there's a problem: Ohio was never a slave state.
Oddly, however, there seems to be a thread between the two locations and their mythologies – properly enforced government regulation is apparently the best preventative measure against hauntings.