Welcome to Flash Pulp, episode one hundred and sixty-nine.
Tonight we present, Mulligan Smith and The Crumble, Part 3 of 3.
(Part 1 – Part 2 – Part 3)
[audio:http://traffic.libsyn.com/skinner/FlashPulp169.mp3]Download MP3
(RSS / iTunes)

This week's episodes are brought to you by The Nutty Bites Podcast.

Flash Pulp is an experiment in broadcasting fresh pulp stories in the modern age – three to ten minutes of fiction brought to you Monday, Wednesday and Friday evenings.
Tonight, Mulligan Smith uncovers the truth behind what killed Ortez's roommate, as well as Smith's client's wife, Graciela Brewster.
Flash Pulp 169 – Mulligan Smith and The Crumble, Part 3 of 3
Written by J.R.D. Skinner
Art and Narration by Opopanax
and Audio produced by Jessica May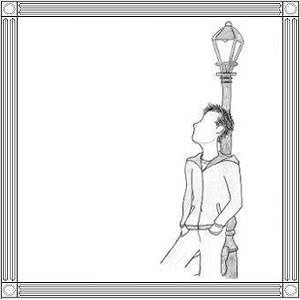 Mulligan didn't know what he'd expected when he'd entered the shop's kitchen, but it certainly wasn't a weeping mother suckling a babe at her breast.
After inquiring about the establishment's owner, the PI had been directed to the rear by the bored looking teenager behind the register. He'd found the woman, who'd introduced herself as Jasmine Webb, distracted, so he'd cut straight to the matter at hand.
"It took a bit of doing," he'd said, "but one of your occasional employees recently informed me that sometimes the cookies include an extra ingredient – something that wasn't in Grannie's original recipe?"
Then she'd started crying.
"I've been waiting for you," she said.
Smith nodded. He was pleased with his decision to leave his companion, Billy, moping in the idling Tercel. It was his experience that some confessions were like avalanches, barely clinging to the confessor, and triggered at only the slightest disturbance – but he also knew such disclosures could easily be brought up short by anything off-putting, and if Winnipeg excelled in any area, it was being off-putting.
Grabbing up a dishtowel, Mrs. Webb wiped away her tears, then moved to unlatch with a bit of privacy.
With her back still to Mulligan, she began to talk.
"Yeah, we sell weed cookies. Three different kinds, chocolate, chocolate chip, and bran, for our more health conscious clientele. It was Mase's idea."
Having re-buttoned her top, she turned to Smith, and began patting the spine of the dozing infant.
"Mason – my husband – he's always been high strung." She whispered the words, to avoid waking the sleeper. "I mean, he fainted the day we got married, and it was just us and the Justice of the Peace. When we bought this place, three years ago, I thought the stress of running it might kill him – but, the neighbourhood was flourishing then, and, at least for a while, business was great.
"Now, listen, my Mom and Dad were hippies, and I guess I am to. I don't truck with any crazy high-end chemistry, I do like smoking a little on the weekends, but I never imagined it could lead to this.
"Maybe a year ago, we hit a slump – things slowed down. Mason started freaking out, figured we needed to expand our revenue streams. Rather than lose the shop, and what little extra cash we had, we decided to gamble on selling some herbal remedies.
"It worked, more or less. We had to be careful who we took on as clients, but, well, as a bakery, we had a decent idea of who amongst the locals was already suffering from the munchies. We started small, and at first it seemed to be going smoothly, but – well, then I got pregnant."
Jasmine bit her lip before continuing. Although her face contorted in despair, her gentle tapping kept its rhythm.
"We were excited when the test came back. I've always wanted to be a mom. We talked about moving out of the neighbourhood and setting up shop somewhere else, somewhere we could stick to old fashioned cakes, pies, and bread – but there were expenses; a bigger car, a nursery, clothes.
"With the baby coming, Mase began losing a lot of weight. I figured it was because of anxiety. He worried constantly about the bakery going under, or about the paying for stuff, or about someone narcing on us – especially about someone narcing. The bigger my belly got, the more nervous he was. One night, maybe three weeks ago, we were lying in bed, and he looked at me with these glassy eyes and said 'I'd kill anyone who came between us.'
"It wasn't like him."
Without fluttering his eyes, Mason Jr. released a rasping belch.
"It was meth. Apparently quite a lot of it, and for a while. I don't know how I missed it – the long hours here, I guess, and the weirdness of becoming parents. He only told me because of what happened. He said he'd been here alone, late, working on prep stuff, and, uh, snorting. He got paranoid – sure a customer was going to tell the cops about us, and that he'd never get to see the kid. Crazy stuff, but he was convinced of it. He tossed a bunch of hardcore cleaning supplies into the batter, cooked 'em, set them in the racks we keep for the special clients, then went home and passed out for sixteen hours."
"He left me nothing but a letter when he heard about Ortez's roommate – but it was enough to throw me into contractions. This is my second day back."
The new born wheezed contentedly as his mother broke down again. Jasmine fought hard to remain silent beside the napping child.
Stepping onto the sidewalk, Mulligan cleared his head with a deep breath.
He reached for his phone.
Flash Pulp is presented by http://skinner.fm, and is released under the Canadian Creative Commons Attribution-Noncommercial 2.5 License.
Text and audio commentaries can be sent to skinner@skinner.fm, or the voicemail line at (206) 338-2792 – but be aware that it may appear in the FlashCast.
– and thanks to you, for reading. If you enjoyed the story, tell your friends.