Tatlin's Tower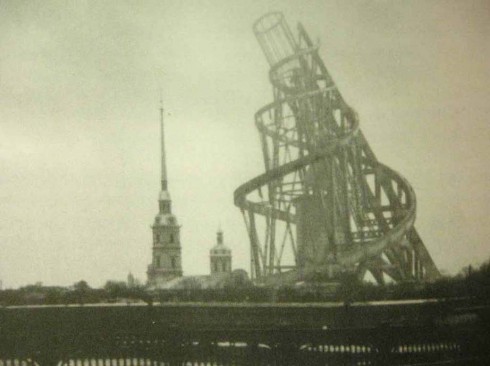 Things are buzzing here at Skinner Co. World Headquarters, (ie. we discovered a massive beehive in one of the shipping bays,) but I wanted to drop in quickly and bring your attention to a marvel of never-realized architecture, which I discovered in the wake of yesterday's radio-based urban legend.
It would have dwarfed the Eiffel Tower in Paris. The tower's main form was a twin helix which spiraled up to 400 m in height, around which visitors would be transported with the aid of various mechanical devices. The main framework would contain four large suspended geometric structures. These structures would rotate at different rates of speed.
Planned as a sort of combination monument and radio tower, the behemoth would have been taller than the Eiffel Tower by approximately 80 meters, (or 260 feet, for my imperialist friends.)
Unfortunately – or, maybe fortunately, considering how many were starving in Russia at the time – it was never built, largely due to the civil war that brought down the Czar.
The picture above is, I assume, a mock-up or Photoshop-job; I couldn't locate its original source. There are apparently models on display at the Museum of Modern Art in Stockholm, Sweden and at Tretyakov Gallery in Moscow – Tretyakov Gallery also being interesting due to its proximity to Fallen Monument Park, which, to my understanding, is essentially a graveyard for Russia's long history of epic sculptures depicting overturned political ideals.