FP236 – Mulligan Smith in The Value of History, Part 1 of 1
Welcome to Flash Pulp, episode two hundred and thirty-six.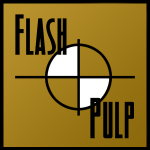 Tonight we present, Mulligan Smith in The Value of History, Part 1 of 1.
[audio:http://traffic.libsyn.com/skinner/FlashPulp236.mp3]Download MP3
(RSS / iTunes)
This week's episodes are brought to you by
Jimmy and the Black Wind.
Flash Pulp is an experiment in broadcasting fresh pulp stories in the modern age – three to ten minutes of fiction brought to you Monday, Wednesday and Friday evenings.
Tonight, Mulligan Smith, private investigator, finds himself talking to an old friend while watching the ransacking of a Walmart.
Mulligan Smith in The Value of History, Part 1 of 1
Written by J.R.D. Skinner
Art and Narration by Opopanax
and Audio produced by Jessica May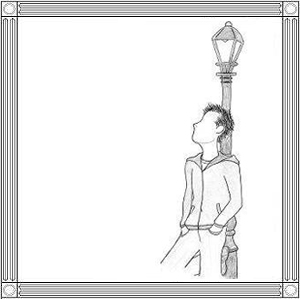 Mulligan Smith was lost in a sea of cheap jackets and bulky winter coats.
Still wearing his greeter's smock, Walmart Mike was at his side.
"Things get wrecked all the time," said Mike. "I knew a guy, Nicky Tyler – drove a cherry 1966 Jaguar convertible. Treated the thing like it was his fucking grandmother. I once saw him stop halfway down a one-way street, and reverse out of the thing, because there was a pothole he didn't like the look of at the far corner.
"Joke was on him though, the poor broke jerk who was running along behind us managed to put his boot through the tail light before the jag was facing the right way."
Across the aisle, an elderly woman in a wide-brimmed hat and red dress had caught Mulligan's attention. Her neck dangled in folds, and her eyes twinkled with a stunned joy.
As he watched, she stuffed a tiny pink and lace nightie into her large purse.
Mike handed the P.I. a broad-sleeved trench, then he continued.
"Anyhow, Nicky had to bail for a bit. It was the '60s, and he was in the mind expanding business. He was taking a little mental vacation one evening and got hold of the idea that this guy we used to hang out with, Tobias, had seduced his dog. After the beating he had to leave town for a while, and his gal was pretty pissed about it.
"A couple weeks in, she buys a hundred dollars worth of milk, and dumps it all over the interior of the car. I've heard of fish and the like being used for that kind of thing, but milk was the worst. A month later, when he got back, I saw the results – the stink had settled in the crevices, it had soaked the floor mats, it had even gotten wicked up under the seats, messing up the upholstery."
Smith had re-hung the long coat, and was moving through a cloud of faux-leather bomber jackets. His gaze tracked between the hangers' selection, and the dozen socks the grandmotherly shoplifter was attempting to pilfer.
"Nicky loves the thing though, so he gets it cleaned and replaces all the leather. He even went so far as to chrome some of the interior.
They'd wandered fully into the women's department by then, so that the detective could keep a running inventory of the store's losses, and he could clearly see the thief's wrinkled face split with a wide grin as she ransacked a shelf of multicoloured thongs.
"Great story," said Smith, "but are you not noticing grammy viking over there pillaging your stock?"
"Yeah, yeah," muttered his working friend, who then raised his voice. "Hey there, young Peggy, I've got my eye on you."
The mischievous hunch in the woman's spine suddenly straightened, and her hands pulled her sack of guilt tight to her chest.
"Yes, sir," she said, moving quickly towards the changing rooms.
Mike unlocked them for her.
"I didn't finish," he said to Smith, once he'd completed his duty. "The idiot had the title in Meredith's name, in case something happened. It was as close to a will as he had.
"Soon as it was cleaned, though, the guy she'd sold it to came over to pick it up. Good cop, actually, by the name of Millbrook.
"The bull got a nice price too, since they were dating at that point.
"I told Nicky then, and I tell you now, sometimes you got no option but to laugh."
"Yeah, I get it, and you're right," replied Mulligan, "but it was my favourite sweater, you know? I mean, who throws bleach? Seriously? I'm glad that meth-head got time."
The door swung wide, and its occupant moved to depart. Her purse was considerably deflated, and the flat wooden bench did nothing to conceal the heap of abandoned merchandise.
"Peggy's been coming in a couple times a month since her stroke," said Mike. "Every now and then she thinks she's sixteen again, and this place is the local five-and-dime. Her daughter came in to apologize, after the first occasion, and said she was the sweetest ma you'd ever meet – a housewife, with a loving husband in the grave. I figure some pinching in her youth was probably the most excitement she had, and her brain's just looking for some adventure before the deep sleep. It's easy enough to notice her, and she always dumps the goods when she gets a warning.
"Arrives home all right, too, once she's had her fun. Her girl says it won't be long now, though."
The explanation had done little to lift Smith's spirits, but, as they trailed the senior to the door, he came to a sudden stop.
"Now we're talking," he said under his breath.
Mulligan lifted a black hoodie from the sales rack.
Flash Pulp is presented by http://skinner.fm, and is released under the Canadian Creative Commons Attribution-Noncommercial 2.5 License.
Freesound.org credits:

Text and audio commentaries can be sent to skinner@skinner.fm, or the voicemail line at (206) 338-2792 – but be aware that it may appear in the FlashCast.
– and thanks to you, for reading. If you enjoyed the story, tell your friends.