FP248 – Mulligan Smith and The Endangered Granny, Part 3 of 3
Welcome to Flash Pulp, episode two hundred and forty-eight.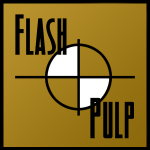 Tonight we present, Mulligan Smith and The Endangered Granny, Part 3 of 3.
(Part 1 – Part 2 – Part 3)
[audio:http://traffic.libsyn.com/skinner/FlashPulp248.mp3]Download MP3
(RSS / iTunes)
This week's episodes are brought to you by The Roundtable Podcast.
Flash Pulp is an experiment in broadcasting fresh pulp stories in the modern age – three to ten minutes of fiction brought to you Monday, Wednesday and Friday evenings.
Tonight, Mulligan Smith must make clear some unpleasant truths regarding an aging lover.
Mulligan Smith and The Endangered Granny, Part 3 of 3
Written by J.R.D. Skinner
Art and Narration by Opopanax
and Audio produced by Jessica May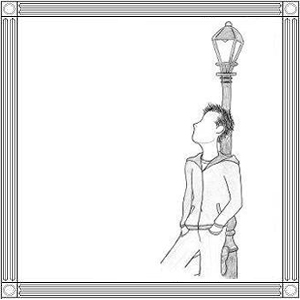 Mulligan leaned forward on the bloated white leather chair, and set a manilla envelope on the row of slightly dusty Popular Mechanics issues that covered the center of the glass coffee table.
On the opposite side of the small living room, the trio on the matching ivory couch raised their brows.
Horton Cobb, dressed in a sleek-lined, charcoal gray, three-piece suit, and positioned on the center cushion, was the first to speak.
"You're a courier of some sort?"
"Well," replied Smith, "today I'm playing the Shakespearean messenger with bad news, but you'd normally find me in the phone book under private investigation and general loitering."
"I knew it," said Granny Cobb, from the left side of the sofa. "I met this skirt chaser down at the Lutheran and he was doing his best to wrap his fingers in my girdle – but he's really come from Sasha Burnett."
"Who?" asked the round-faced woman on the right, something of a stranger to Mulligan. From a quick phone conversation, he'd gathered that Carrie Salgado was forty-three, and had spent the majority of her adult life in the cab of her long haul transport truck. She owned the condo at which the group was gathered, though the Cobbs had moved in just the previous Saturday.
"Sasha's simply a dentist I used to date," answered Horton. His voice was calm, but his hands fussed at loosening his tie.
Mulligan tilted, then shook, his head. "I'd intended on having this conversation with you privately, Hort, but things have gotten rather complicated. You're – Mrs. Cobb was quite eager to give me her number, and it was easy enough to discover it was Ms. Salgado's credit card covering the bill. Things got worse from there, but – well, that can wait a moment. I should make clear that I'm actually here on behalf of Donna Houser. "
"OK, then who's Donna?" asked Carrie. She was equally interested in an explanation from either Smith or the Cobbs.
"Another of HoHo's former paramours," said Jacqueline, laying a palm on Hort's knee, "but it makes no difference which is reaching for our wallet, we have nothing to give."
Her voice had grown harsh, and her comments were delivered directly to Smith.
The PI scanned the room before responding. The walls were eggshell white, and barren; the ceilings were high and echoing. The room's focus seemed to be upon the massive television, which sat gaping like a window opened onto the blackness of space.
Mulligan blew a raspberry.
He had not been looking forward to the conversation.
"To start, I'm not here about the money," he said. "but, yeah, my client is going to hear about it – eventually. As it is, I don't need you two trying to hustle me out with a flipped table and a bunch of indignation, so shut up and listen until I'm done. You'll have plenty of time to run before I call the cops."
Jacqueline Cobb's mouth wore a frown of scorn, but Horton had turned his attention to tugging at his jacket cuffs.
"Ms. Salgado," continued the detective, "I know this is going to be a lot to hear, but it's important that you sit through the whole uncomfortable roller coaster ride."
Smith tried on a sad grin, but irritation crept into his voice as he addressed Hort. "You're a couple of grifters living off of the guilty kindness of comfortably emotionally-distant, but well off, women. Easy enough, I suppose, given your penchant for older ladies.
"You know, Doc Burnett was under the impression you were beating the poor woman? Not to be crude, but I hope you at least had the decency to maintain your level of vigour while with the rest of your lovers."
"What?" asked Carrie Salgado, but Smith pushed on.
As I mentioned," he said, "I was hired by Donna Houser. When we first met, Hort, she told me a very touching story about the two of you at a local park.
"There was a cloud burst, but you were snug beneath a broad sycamore. It was dark, and she had a clear view of the street as she straddled you at the edge of an empty public beach – a rare display of free-spiritedness, on your part, she thought – but, then, they all seem impressed with your sudden moves of daring. Frankly, it's amazing what you'll find beneath a buttoned-sweater.
"Anyhow, to cut to the chase, she recalled the only mar on the day being the broken condom.
"Donna's choice in cardigans lead me to believe that she might not find such romance terribly common, so I believe her when she says she was pretty anxious that something more might come of the situation. I'm sure you were both very relieved when her next period came.
"It was months later, when her routine doctor's visit turned up some unusual results, that she realized the truth of the matter.
"Well before any of that, though, on the morning following your beach party, you escorted Mrs. Cobb during two supposed weeks of out-of-state hip-replacement surgery. I don't know what kind of surgeon operates in a Vegas Hard Rock Hotel and Casino.
"Without realizing what was actually going on, my client covered the expense of the entire – uh – operation. I know you ended the relationship soon after, but you should be more careful about not leaving your banking receipts at your next ex-girlfriend's place – our mutual dentist friend certainly didn't want them."
"Not the kissing sycamore at Nuttiteq Beach?" asked the wronged trucker, as she surfaced briefly from her stunned reverie.
Not willing to lose his momentum, Mulligan didn't allow time for an answer.
"Donna Houser doesn't realize you conned her – she just wants you to know she tested HIV positive not long ago. It was a pain tracking you through your chain of broken hearts, but, so far, Donna is the only sick one. Worse than an empty bank account, you've given her a life threatening illness."
"- but that's impossible," sputtered Horton, "I always – I'm always extremely careful; well, except for that one accident."
"Yeah, so I've heard," replied Smith. "I'm really hoping, for Ms. Salgado's sake, that your streak of luck has continued.
"If I had to guess, though, you're not so worried while with your wife, given her, uh, maturity, and the unlikelihood of any unwanted results. I have to say, I came across a lot of surprises while doing my homework on you, Hort, but finding your marriage certificate to Jackie was probably the biggest one. You were smart to break it off before any of your marks hustled you up the aisle, bigamy cases can get ugly.
"I do see your point, however, regarding your reputation for consistently wearing protection – perhaps, Mrs. Cobb, there are some gents at the local bingo halls that you should give a call?"
The woman's false teeth shut with a clack.
Flash Pulp is presented by http://skinner.fm, and is released under the Canadian Creative Commons Attribution-Noncommercial 2.5 License.
Freesound.org credits:

Text and audio commentaries can be sent to skinner@skinner.fm, or the voicemail line at (206) 338-2792 – but be aware that it may appear in the FlashCast.
– and thanks to you, for reading. If you enjoyed the story, tell your friends.