True Crime Tuesday: Strange Loads Edition
Today's True Crime Tuesday comes bearing strange gifts.
For example, our first story demonstrates that it takes a special kind of fetish to haul folks into illegal waters. The Wisconsin State Journal reports:
Cedarburg police believe they have identified the man who has been impersonating a reporter and contacting female high school athletes in Wisconsin, […] Gary Medrow, 68, of the Milwaukee suburb of Greenfield, has multiple convictions over the past 30 years of improper use of a telephone and impersonating a police officer, according to police and court records. On Friday, Medrow was charged in Ozaukee County Circuit Court with two counts each of disorderly conduct and unlawful use of a phone.
This may seem like a straight forward, if creepy, case, and you may even be wondering how it ranked for inclusion in this TCT – please allow me to, er, lift some of the mystery:
In 1997, Medrow was convicted […] of unlawful use of a telephone and impersonating a police officer. In that case he made a collect call from the Milwaukee House of Corrections, said he was investigating a car crash and asked a Marshall woman if she could carry other women.

A 1998 Milwaukee Journal Sentinel story that profiled Medrow, who at one time was a patient at Mendota Mental Health Institute in Madison, said Medrow had a fetish for "calling women and trying to persuade them to lift other women and carry them around."

About two weeks ago, the caller called the daughter of Rob Hernandez, an assistant sports editor at the Wisconsin State Journal. The man indicated he wanted a photo of the Verona girls golf team in a pyramid or on one another's shoulders, asked for the names of teammates and wanted to know their heights.
Mr. Medrow's isn't, however, the strangest load I've recently seen carried in the news – from Express.co.uk:
TEN sad-looking Shetland ponies were found in a night-mare position after astonished traffic cops stopped a dodgy-looking white van at a service station.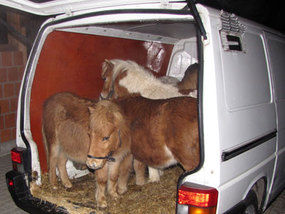 How did the pony-crammers attempt to explain their unlikely cargo? Did they claim to be transportation managers for some upcoming Hobbit-related promo event?
Neigh.
In an even more absurd twist, the drivers – on their way to Romania when they were stopped at Offenbach, Germany – claimed they'd had no idea they had livestock on board.