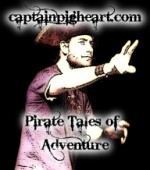 A very brief Flog-It Friday this week, although it's certainly worth looking up all involved in the last entry.
There's a very distinct reason that Flash Pulp contains no piratical storyline, and that reason's name is Captain Pigheart [Warning: salty talk and adult implications].
As far as I'm concerned, the man is the maestro of the merry mizzen-mast, and I've no interest in crossing comedic cutlasses with the Captain.
Update: Speaking of opportunities to get the word out regarding projects, have you checked out The Seekrit Project Podcast? It's great work by men of words, Scott Roche and David Sobkowiak.
---
Got something you want flogged? Leave a comment below, or email me at skinner@skinner.fm and I'll include your project (or any project you think is worthy) in the next round-up!