Welcome to Flash Pulp, episode one hundred and seventy-five.
Tonight we present, Mulligan Smith and The Family Legend, Part 2 of 2.
(Part 1 – Part 2)
[audio:http://traffic.libsyn.com/skinner/FlashPulp175.mp3]Download MP3
(RSS / iTunes)

This week's episodes are brought to you by The Shrinking Man Project.

Flash Pulp is an experiment in broadcasting fresh pulp stories in the modern age – three to ten minutes of fiction brought to you Monday, Wednesday and Friday evenings.
Tonight, PI Mulligan Smith learns that not every legend has a happy ending.
Flash Pulp 175 – Mulligan Smith and The Family Legend, Part 2 of 2
Written by J.R.D. Skinner
Art and Narration by Opopanax
and Audio produced by Jessica May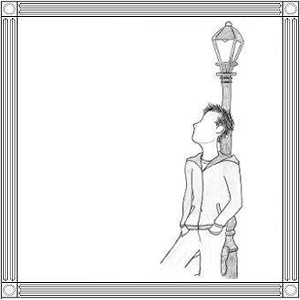 Mulligan had the flu, and was feeling less than enthused about the hours he'd spent pacing the cement sea of mega-stores and fast-food islands.
It was on the shabbiest shore that he finally found the thirteen-year-old he was looking for.
The boy had set himself at the entrance of a gas station, with his wheelchair blocking access to a metal shelf selling blue windshield washer fluid. On his lap was a sturdy, but transparent, plastic sack, filled with chocolate bars and topped by a small donation box.
Few people seemed to be paying much attention to the lad, however, as their eyes were largely on the g-stringed picketers across the street.
While a well-toned man, in a bow-tie and shimmering Speedo, spoke to the crowd regarding pay-rates, the white-teddy-wearing protester closest to the street utilized her time by waving a laminated sign.
"Honk if you love lap dances", it read.
Noting the youth's distraction, Smith used the opportunity to skip the inevitable charity pitch.
"Sad truth regarding the business, you can generally tell a female stripper's age by how large she's been forced to increase her implants. Not her fault, really, but it's a shame that the investment is usually all they've saved up till that point – there's no real retirement plan for a peeler."
"Maybe the strike will help?
"Well, Seth – they claim it's for their tips, but people in the know say the whole thing's just a PR move by management." The teen's eyes widened at the mention of his name, but Mulligan continued before any response could be made. "I've come about your brother. Your mom sent me."
"What's wrong with Kurt?"
"Nothing new. I'm mostly here concerning the prostituting-via-Facebook thing."
The sitting figure said nothing.
"If you have his login info, you need to tell me," said Mulligan.
Seth remained silent.
"If not his password, then anything – regular Johns? Friends? Victims?"
"Kurt can take care of himself," the boy replied, shrugging.
"Listen – this isn't a clever cat-and-mouse bit, he's been missing for three days, and he's probably in serious trouble. I'm not judging his industry of choice, but the truth is, while his methodology has allowed him to stay freelance and avoid some face-slapping, many of his clientele remain in-the-closet, can suffer a lot of self-loathing, and may be unstable."
"Do you know who Kurt is?" said Seth, his cheeks aflame,"He's the son of Bobby Sweet. Dad once spent seven days straight in a whorehouse, getting free service because he'd convinced them he was a cop. He only got busted because an actual five-o walked in for his monthly appointment. You don't even wanna hear what Grandad, or even Great-Grandad, got up to.Kurt's a Sweet he'll be fine."
Smith cleared his throat.
"That may be how they tell it down on fourth, but I've heard your Pops was busted – that time – by an ornery mute after he had an undercover cop badger game turned against him. Hell, I've probably seen your old man more than you have. He used to come round to my grade school pretty regularly when I was a kid, giving a talk as part of his parole conditions – back before he started going in for longer hauls."
By the end of Mulligan's delivery, the boy's eyes were raging slits.
"Why'd she send you?" he asked.
"Your mom isn't trying to control you, she sent me because she's had the good sense to get away from the bloody Sweets and their family legend. You do understand what a legend is, right? A tale to explain something otherwise unexplainable – in this case due to a reluctance to speak the truth on the part of the person who understands the reality of the situation."
Seth's mouth was a thin white line.
"You want your brother's death to be just another part of the legend?" asked Smith.
"#### you," was the immediate reply, but, after a pause, it was followed by, "dollar-sign, then bigm0ney, all one word, with the 'o' being a zero. His user name's his email address."
"Call her. She worries," said the PI, even as he was moving towards his Tercel, "- and get the hell out of that chair and stop scamming people's change, otherwise I know an ornery mute who's got nothing better to do with his days than follow you around."
Flash Pulp is presented by http://skinner.fm, and is released under the Canadian Creative Commons Attribution-Noncommercial 2.5 License.
Text and audio commentaries can be sent to skinner@skinner.fm, or the voicemail line at (206) 338-2792 – but be aware that it may appear in the FlashCast.
– and thanks to you, for reading. If you enjoyed the story, tell your friends.